Year 1
In Year 1 Orange we have Georgina Suttle supported by Nell Wyld and
Laura. Mark Crabtree does PPA cover on a Tuesday morning.
In
Year 1 Purple we have

Jess Abrahart supported by

Anne Tran and Ugonna. Mrs Martin covers on a Monday afternoon and on a Tuesday morning.
Year 1 is an important year as it is the first year of Key Stage 1. In contrast to the Early Years, the children are now engaging with structured learning all day. We put an emphasis on developing positive learning behaviours and classroom expectations. We encourage the children to be independent, focused and kind learners.
At John Stainer, we prioritise a broad and varied curriculum. Our day usually follows this timetable.
9:00 -9:15 Handwriting
9:15 – 9:45 Phonics
9:45 – 10:15 Follow up phonics or reading activity
10:45 – 11:45 Literacy
1:00 – 2:00 Maths
2:00 – 3:00 Computing / Science / Topic / Art​
3.00-3.15 Story Time
Reading
Reading is a large focus in Year 1. We follow Sounds-Write, which is a structured phonics programme. This takes them through the sounds in the English language and the many ways of spelling them. Each morning the children take part in direct phonics teaching and then a follow-up activity or an extra lesson if needed. We send books home three times a week for the children to practise their reading. We also encourage reading for pleasure! Every afternoon we read a story with the children. We also spend time choosing our own books and taking trips to the library.
Writing
Correct letter formation is an important habit to develop. We practise our handwriting every morning, ensuring that we are writing on the line and making our letters the correct size. When creating our own pieces of writing, we follow the Talk 4 Writing method. Telling our stories orally means that we are confident when writing them down! We explore many genres, including narrative, poetry, information texts, instructions and recounts.
Maths
In Maths we follow a maths mastery approach. We begin explaining each concept using concrete materials and real life examples.
Children are given the opportunity to solve maths problems using concrete materials and pictures. This ensures they have a solid understanding of the skills and concepts. We extend the children's thinking through reasoning and problem solving tasks.
Autumn
In Autumn we learn about animals and their habitats. Our trip to Mudchute Farm was amazing! We saw a lot of different animals and learnt about their homes and foods they eat. Here are some pictures while we were at the farm.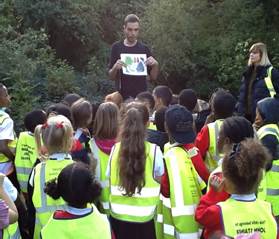 We enjoyed feeding the animals
At the end of autumn, we had a special, surprise guest visiting us at school. He asked our class to meet him in the dome where he played us his favourite Christmas Choral, read us a story then told us about his many adventures around the world. Here is a peek at how we got on.