Whole School Curriculum Map and Intent
In this section, you will find all you need to know about our curriculum. Each subject overview gives an insight into our curriculum across the school. For further information about the programme of study for each curriculum area, please click on the following link https://www.gov.uk/government/collections/national-curriculum#programmes-of-study-by-subject
Click here to view our curriculum overview for each subject
Curriculum Intent
Developing strong and respectful relationships is at the heart of our intent, and our aim at John Stainer, is that every child will receive what we proudly state in our mission statement which is 'an excellent education, to enjoy, empower and enable'. By excellent education, we mean a high quality education which challenges children and helps them to achieve the key knowledge and skills outlined in the national curriculum and beyond. By enjoy, we aim to deliver this curriculum through a range of exciting methodologies and with the most up to date resources and technology. To empower and enable, we aim to provide different opportunities to build children's resilience so that they are able to reflect on their learning and with confidence, apply this knowledge and acquired skills into different contexts.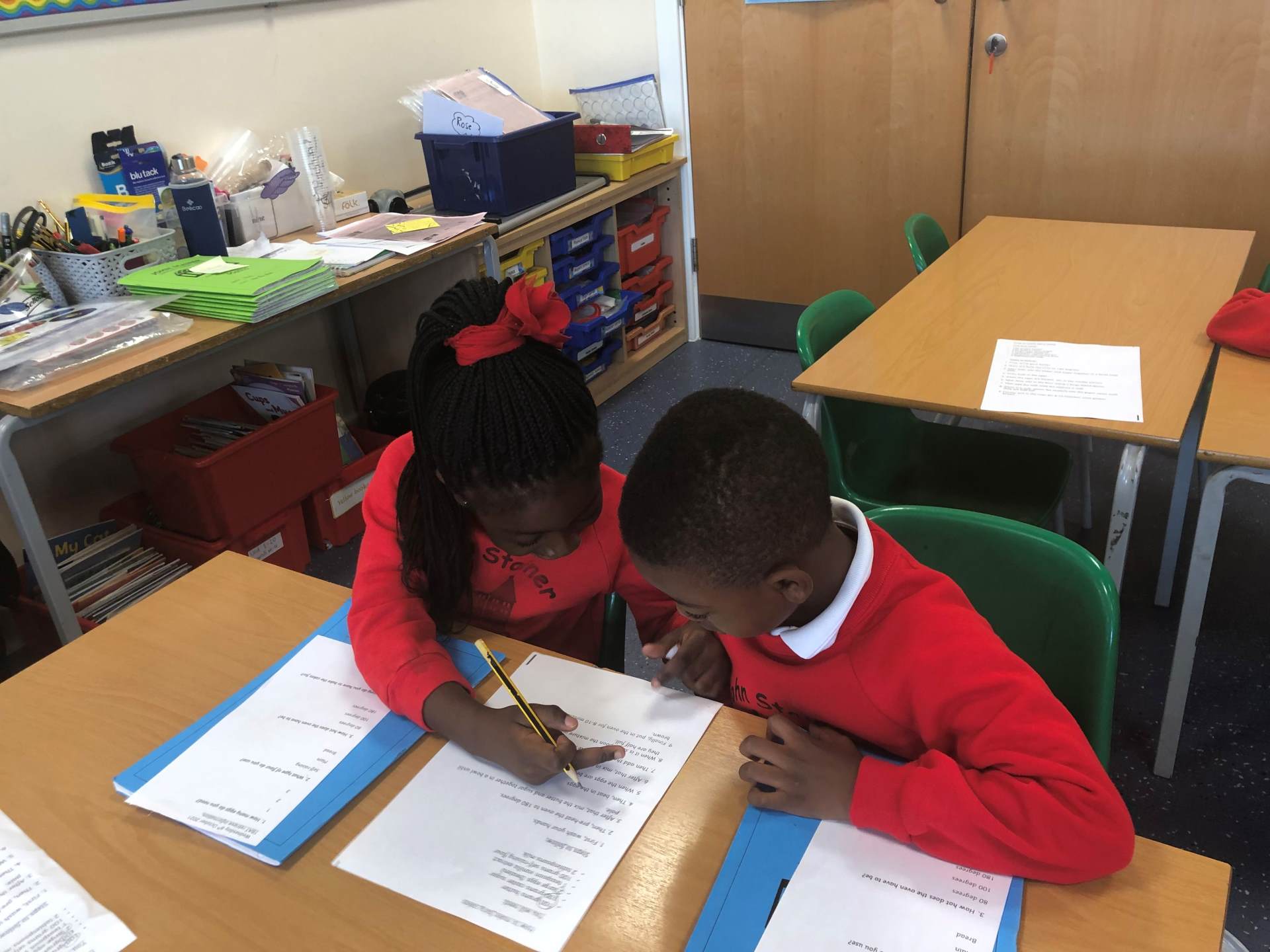 Our ethos is further cemented by our six core values which Governors and staff are committed to embedding through all aspects of school life. We believe that these key values (community, kindness, friendship, happiness, honesty and respect) coupled with the Fundamental British Values (Democracy, Rule of Law, Mutual Respect and Tolerance, Individual Liberty) underpin what it is to be a good citizen in our diverse community and the world in which we live. Our values can be seen in everything we do here at John Stainer. Staff are swift to identify children demonstrating these values and children are subsequently rewarded for their values based actions on a weekly basis with our citizenship awards. These values are taught throughout the year but are the key focus across the school on a half termly basis.
Our school values and the British Values are key reflection points in our curriculum. In our Religious Education lessons, children have the opportunity to learn the skills and develop attitudes that help protect themselves and others from harm throughout their lives. They learn that our school is democratic classroom where all pupils have an equal right to be heard. Democracy is modelled by the teacher and expected of every pupil. In RE pupils examine different codes for living and consider the value of the rule of law where all people are equal before the law. They consider questions about identity and belonging. RE lessons provide good opportunities to challenge pupils to be increasingly respectful and to celebrate diversity of different cultures, faiths and beliefs.
With these values being fully embed across our curriculum and in practice, children's behaviour is usually of a very high standard. On the odd occasions where children fall short of our high expectation of behaviour, staff provide the opportunity for children to reflect on their actions in line with these values and reflect on how they could remedy and improve their behaviour. Our aim is that every will develop a sound understanding of these values which will shape them into becoming happy, healthy, curious and well-rounded individuals as they move on to the next stage in their lives and in the wider world.
The school's focus on curriculum development ensures that there are opportunities to celebrate the diversity of our community and the wider world. Our diverse workforce reflect the 34 cultures in our student community. In addition, our range of diverse core texts coupled with a number of themed activity days help us to celebrate differences. We encourage children to take part in these fun activity days such as Windrush Day, London History Day, culture day, food tasting evening, our rich Religious Education curriculum, religious festivals and varied themed days (Downs Syndrome and World Mental Health Day). Our work on diversity and support for Lewisham's Race Equality Pledge help children to realise that everyone is special and unique and help us to celebrate cultural differences and different kinds of families.
Our PSHE curriculum is the focus of one of our daily acts of worship but also timetabled and taught discretely in each class. This provides opportunities for children to discuss and learn about personal health, wellbeing, safety, relationships, online safety, differences and aspirations. This is embedded across the curriculum, consolidates our values and offers children the chance to raise questions, discuss important issues, learn to listen to others' views and share their own thoughts.
Our curriculum ensures that academic success, reliability, responsibility and resilience, as well as physical development, well-being and mental health are key elements that support the development of the whole child and promote a positive attitude to learning. Our curriculum encourages and provides creative and problem solving opportunities, high levels of technological awareness including media safety and an appreciation of music and the arts, whilst also nurturing the essential other values of empathy, integrity and the fundamental British Values. Our curriculum is carefully designed to teach children valuable and transferable skills through the full range of primary subjects. It is then linked with research, project based learning and frequent educational visits which bring fun and enjoyment whilst developing children's curiosity and consolidates learning beyond the classroom. Here at John Stainer, we have a curriculum which mirrors families changing needs and the times in which we live – our remote and blended curriculum, delivered through Seesaw, Spag online, Mathletics are only a few areas of our provision.
We want our learners to have the cultural capital they need to make aspirational choices and experience success beyond their time at John Stainer. The outdoor environment and the local community are considered rich opportunities for active learning for all our children. At John Stainer we pride ourselves in providing a rich curriculum. We want our children to become aware of what different families and the local community have to offer and to understand the positive impact they can have in the future success of the community. For this reason, we draw on the expertise and knowledge of families and our local community and work in partnership to plan activities and opportunities to strengthen our curriculum eg working with the local vicar to celebrate festivals, working with the local library to celebrate and promote the love for reading, working closely with the Credit Union to educate children about the importance of savings, carrying out nature walks, visiting Brockley Nature Reserve, interviewing the lollipop lady about the war and studying the local area are a few examples.
A range of exciting trips, visitors and 'wow' days are planned throughout the year to enhance the curriculum. Pupils have opportunities to share their learning with each other, their parents and carers and other learners through school-based and external exhibitions, performances, competitions and events involving other schools. Developing independence and motivation as learners and their sense of responsibility as future citizens, is at the heart of all our teaching and learning.
We recognise that every child can learn, but also know that some children require quite different opportunities and support to do this. We ensure that every child experiences success in their learning and development through quality first teaching. Our strong SEND team works closely with staff to achieve this and to ensure that carefully planned targeted interventions are in place for individuals and small groups. Our children respond positively to Lego Therapy, Speech and Language Therapy and Idl Cloud. Our sensory room, sensory garden and school dog are other valuable resources which strengthen our SEND provisions while our new arrivals and bilingual children further develop oracy through rich language learning environment and the use of Littlebridge EAL Language acquisition and understanding platform.
In lessons, higher attainers are further challenged in their learning through the use of appropriate mastery extension activities and higher level toolkits while children who find aspects of their learning more difficult are appropriately supported through the use of smaller class size, guided group work, manipulatives, the concrete, pictorial and abstract method, Phonics and thematic tubs, writing prompts, artefacts, pre-teaching amongst a range of other resources. With these resources, lower attainers are also enabled to experience success.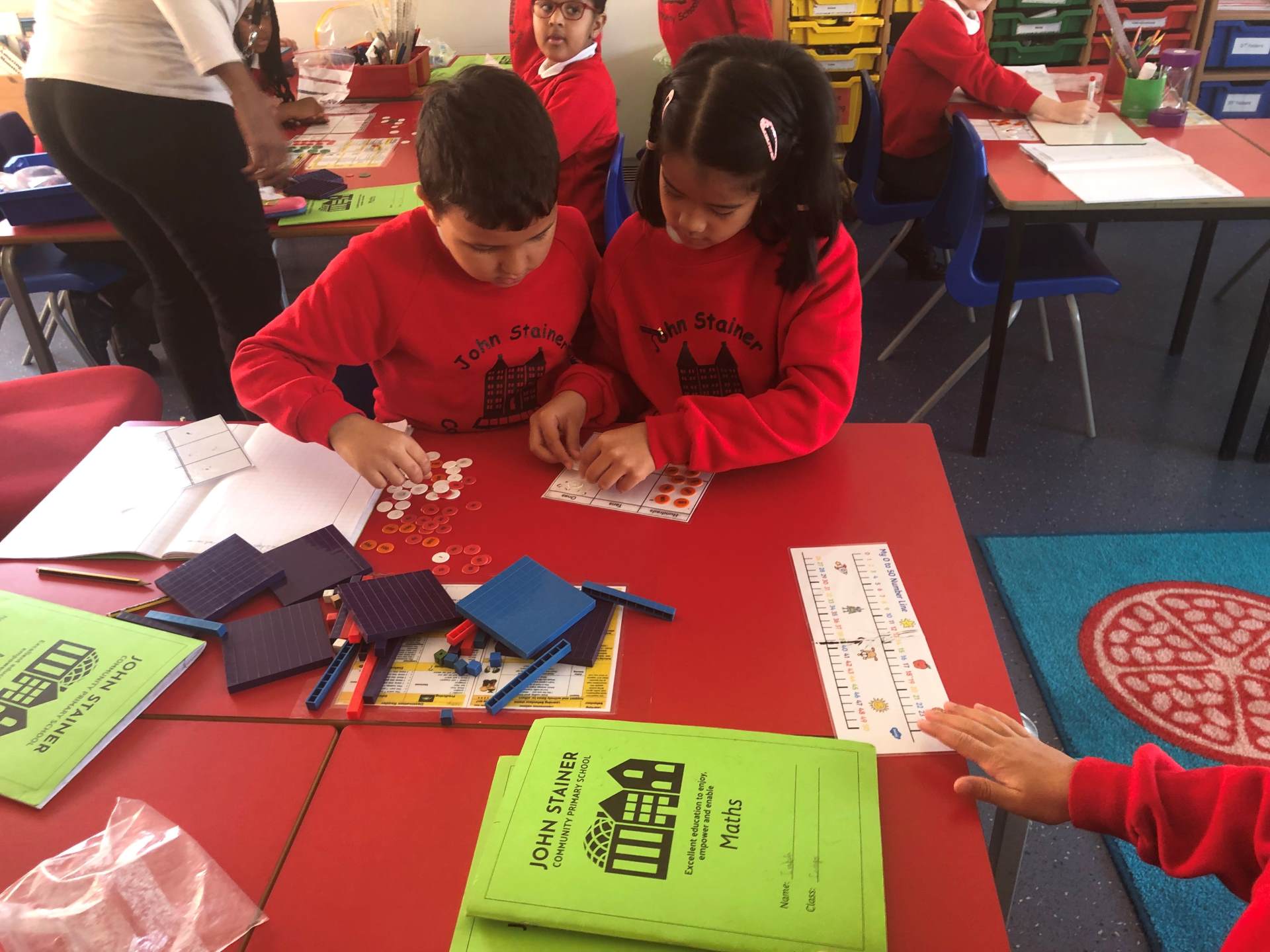 It is our job, in partnership with the parents and through our carefully designed curriculum, to support every pupil to become an aspirational, highly skilled, self-directed and globally aware learner who is able to work independently or collaboratively with confidence, focus and a sense of pride in their achievements.
We invest in quality resources to support all families, especially those who are from disadvantaged backgrounds. Our Pupil Welfare Manager and our highly skilled Family Liaison Lead work closely with families to provide pastoral support to families at school, at home and in the community. In school, this support is sometimes requested through our self-referral support box system. These can be found in each classroom so that children can request to see our Liaison Lead to talk about any worries they may have. Children may also be a part of a lunchtime friendship group where they further explore our core values and their importance in developing healthy relationship with others. In the home environment, this support may be linked to budgeting, CV writing, dealing with bereavement, returning to work, accessing funding and support, bedtime routines, Early Help, dealing with mental health issues etc.
At John Stainer, our aim is for our children to feel a sense of pride and achievement about their learning. We want them to know that mistakes are inevitable but with perseverance and resilience, we will help them to make fewer of these whilst becoming more empowered in their learning. We want children to feel proud of their achievements and to celebrate theirs and others' successes. We motivate and celebrate our children's achievements through the use of praise, house points, a positive phone call home to parents, weekly certificates for achievement in citizenship, attendance and good sportsmanship. Ongoing formative feedback, the chance to share their success with members of the Senior Leadership Team, stickers, a thumbs up and a smile have also proven to be a huge success.