Online Safety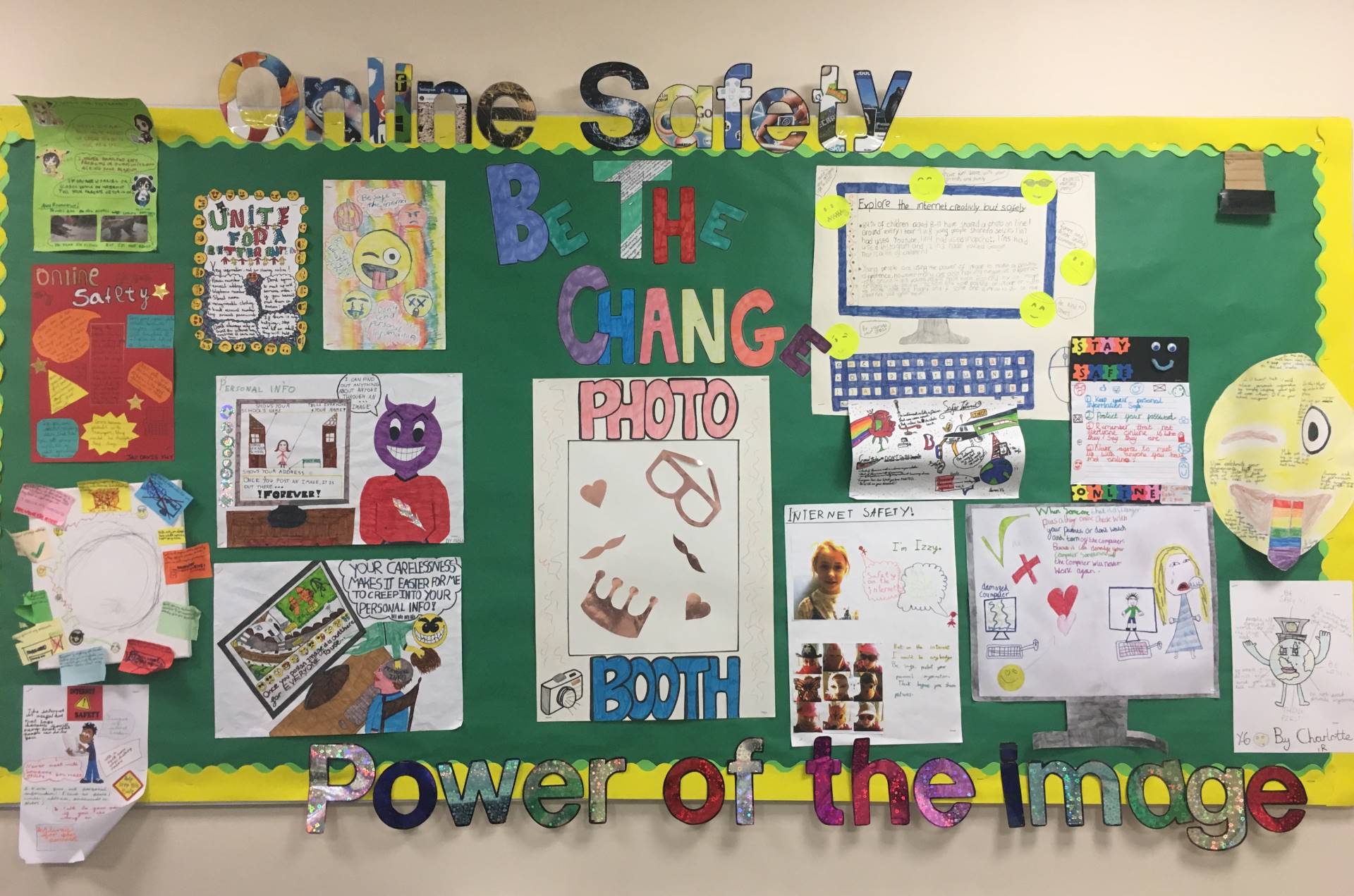 Online Safety - how to keep up-to-date
At John Stainer we take online safety very seriously. We have been lucky enough to work with the NSPCC, who visited the school to talk to both children and parents about online safety. This was a great opportunity for parents to receive expert advice on this ever evolving topic. We have summarised some of their key points below but feel free to visit the Share Aware pages of their website.
Explore sites and apps together

If you want to know what your child is doing online, the best thing you can do is talk to them about it. Ask your child what sites or apps they like and also talk to them about what you like doing online too. Be positive about what you see, but also be open about concerns you have: "I think this site's really good" or "I'm a little worried about things I've seen here". More detailed conversation ideas can be found on the NSPCC
Share Aware
site or you can try this
handout
produced by the Safer Internet Centre for Safer Internet Day
Do your research on Net Aware
If you are not sure about a game or app, give yourself time to do some research before making a decision on whether you think it is suitable. Net aware is the O2 and NSPCC's guide for parents. It covers over 50 of the apps and sites most commonly used by young people and has links to information that will help you and your child, including how to remove content on different apps and sites, block people and report abuse.
Talk to your child about what you think is appropriate
You know your child best but the best way to check if a game is appropriate is to play it with them. Remember to involve them in the discussion - ask what they think is OK for children of different ages so they feel involved in the decision-making. Be aware that your child might talk about friends who use apps or visit sites that you've decided aren't suitable. Be ready to discuss your reasons, but recognise that they may not agree with you. Listen carefully for the reasons why but don't feel pressured into letting your child sign up or use websites that you feel they're too young for.
Talk about age ratings.
Online games, movies and some websites will have an age rating or minimum age to sign up. You can check this on Net Aware. Fortnite, for example, has a PEGI rating of 12. Age limits are there to keep children safe. You can find out more about what the PEGI icons mean here.Talk to your children about the purpose of age limits and any concerns you might have, and agree together the websites, apps and games they can use.
Ask about things they might see online which make them feel uncomfortable
In addition to decisions about whether a game might be suitable, you will also need to consider that most games and apps now feature chat functions and live streaming.
Whilst many children under 7 may seem confident navigating apps and games, according to the NSPCC, they have not yet developed the necessary social skills to recognise when they are in danger and therefore are unable to protect themselves. Please ensure under 7's are not left unsupervised with games with such functions or the internet unless the settings have been adjusted. Children need to be taught how to recognise when they feel uncomfortable offline and online, such as having a funny feeling in their tummy. Let them know that this is their body's way of telling them to go and seek help from a trusted adult.
Talk to your children about things they, or their friends, have seen that made them feel uncomfortable:
Be specific. What exactly made them feel uncomfortable and why? Is it people or animals being hurt? Nasty comments about others?
Link these to things in the real world, and explain that you're always here to protect and help them online and off.
Reassure your child that they can always talk to you about anything that makes them feel uncomfortable and you understand that mistakes do happen.
Show them how to report or block on the sites and apps they use. Use net-aware.org.uk to find out how.
Tell them you'll help them to report anything upsetting they've seen, or to deal with online bullying
Talk about online friends
Children don't think of people they've met online as strangers, they're just online friends. This can make them vulnerable to bullying, inappropriate friendships and grooming. The best way to approach this is to talk to them about healthy friendships. Discuss who they're friends with online, how they choose their friends and what information they share. Recognise that many children enjoy chatting online, but remind them to be careful because people aren't always who they say they are. Explain that good friends shouldn't leave you feeling upset or make you do things that you are not comfortable with.
In addition, check that your child understands what 'personal information' is - such as an email address, full name, phone number, address and school name - and why it's important not to share this information just as it is in the offline world. Ask if them what they would do if someone was upsetting them or asking for personal information.
Talk through the privacy settings on their favourite games and show how to keep information (including their location) private and how to report or block someone.
Agree rules and boundaries and be a good role model
Whilst children can be very creative online, we also know that the internet can be very addictive. Make a family agreement about what times your child can go online, and explain that you think it's important they do a variety of activities. Many sites have timers that you can set, or you can set it up on the computer, mobile or tablet. In particular, do not let children have devices in their bedrooms at night time. Don't forget to think about your own online behaviour in the agreement to help set a good example. It might not always feel like it, but your child does notice how you act and follows your lead.
Use Parental controls to reinforce online times.
You can also install software and tools to help you block or filter the content your child sees when searching online. And family-friendly public WiFi can help when you're out and about. Parental controls are also available to help you to:
plan what time of day your child can go online and how long for
stop them from downloading apps they're too young for
manage the content different members of the family can see.
Remember that you will need to set up controls for each device. Setting up filters such as Google SafeSearch or Youtube Kids will help to protect your child from seeing inappropriate or adult content. Internet Matters offers excellent advice on setting up parental controls or you can ask for help in an O2 shop - you don't even need to be an O2 customer! . You can book an appointment here.
Don't forget to share this knowledge with other members of your family
Sometimes children prefer to talk to a trusted adult who isn't their parent, so it's important that grandparents and extended family members and friends share your knowledge and approach, and understand how they can help and support your child.
If you require any additional advice, check out the NSPCC website or expore the Thinkuknow website with your children. You can also speak to Miss Sho, Mrs Commettant or Tracy in school, in addition to our safeguarding team.
And finally, check out this fantastic rap that Year 4 created for Safer Internet Day