At John Stainer we are a musical school, with a wide variety of musical experiences available for every child.
Latest news: Borough of Culture
Choir rehearsal files
Full Track Air
Backing Track Air
Full Track Future Culture
Backing Track Future Culture
Backing Track Foundations
Full Track Foundations
Part A Foundations
Part B Foundations
Lewisham Backing Track
Lewisham Full Track
Waste Backing Track
Waste Full Track
Choir Rehearshal for this Summer's Borough of Culture Concert
We were lucky enough to work with Emily from Lewisham Music who came to choir rehearsals and helped us learn two of the songs we will sing in the summer.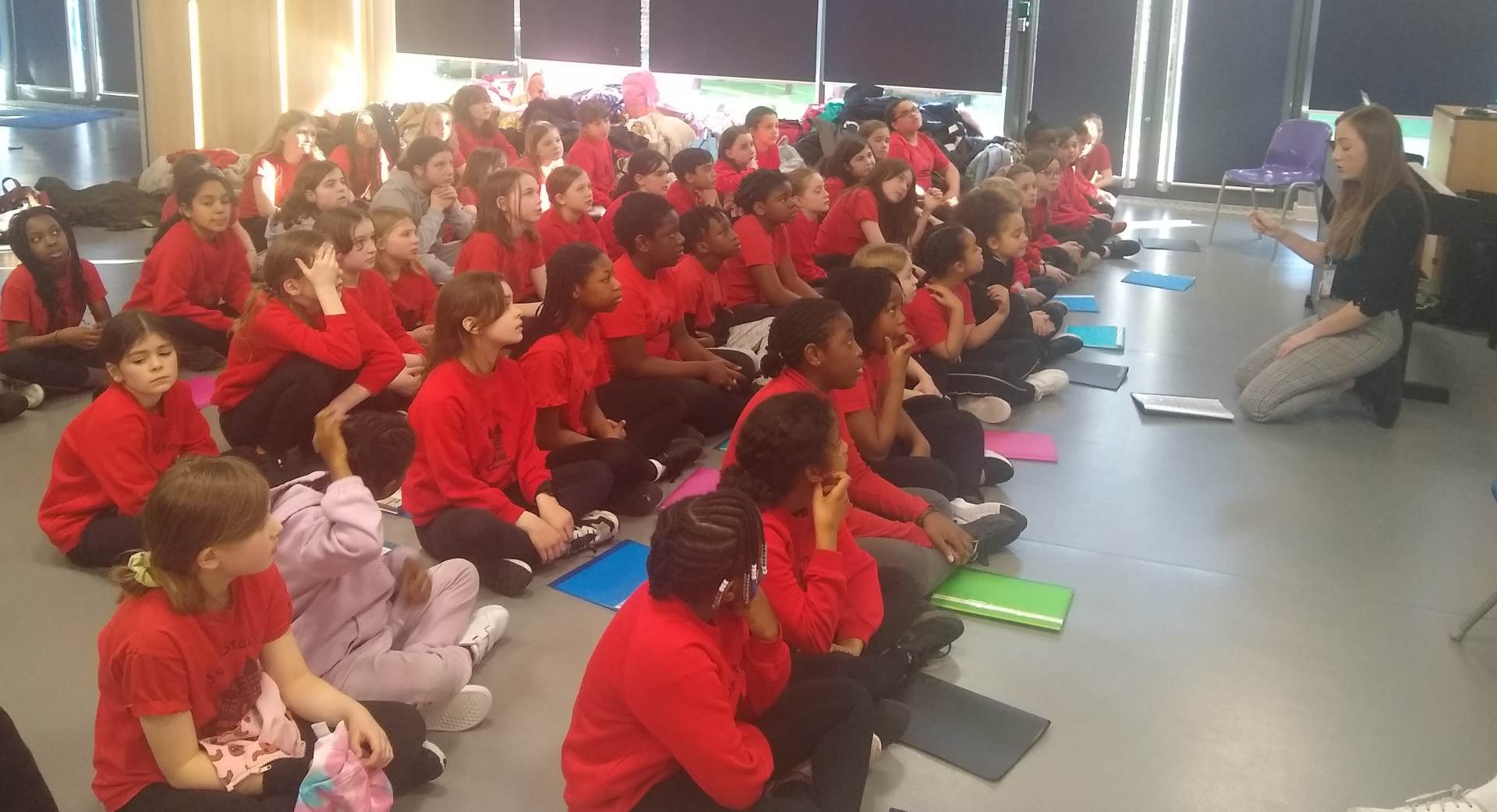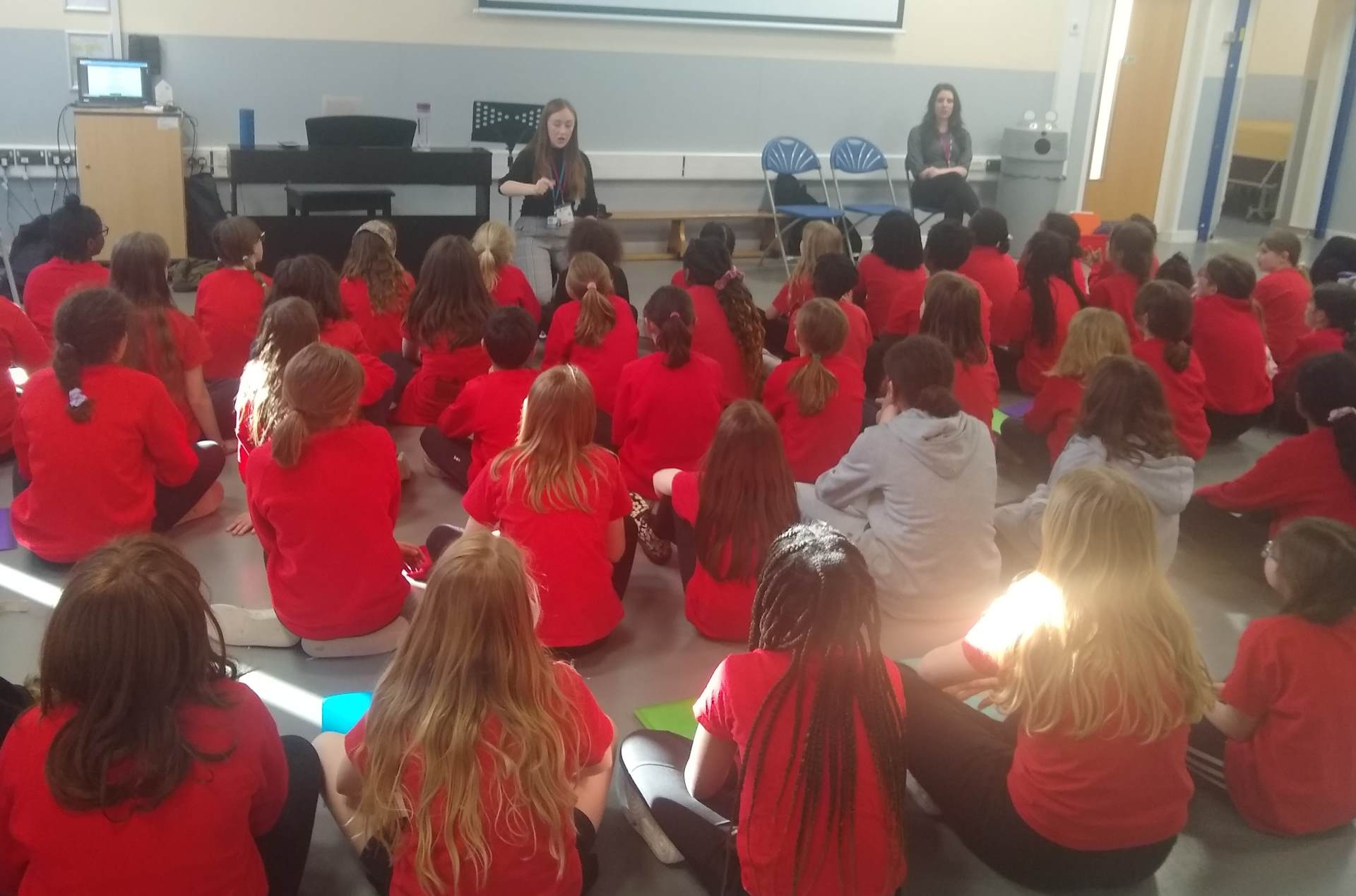 Blackheath Concert Halls
REHEARSAL FOR TURNING OF THE YEAR
34 members of our talented choir attended The Turning of The Year concert at Blackheath Concert Halls. They joined 8 other schools to become a wonderful massed choir, performing songs together, including harmonies and actions. They were conducted by Clare Caddick, the Head of Lewisham Music. Each school then performed their own piece of music We were not permitted to film the event, but we were able to record the rehearsal of just John Stainer choir. Thanks to Gersende who recorded and edited the film. The evening performance took place in front of 400 parents and carers, and it was a brilliant success. More information about the choir is found at the bottom of this page - so keep scrolling.
//www.youtube.com/embed/EbG3LBrcYZA
Latest Performances and Productions
Here are some photos from the Key Stage 2 Production of
CHRISTMAS 1914 at St Catherine's Church 2019: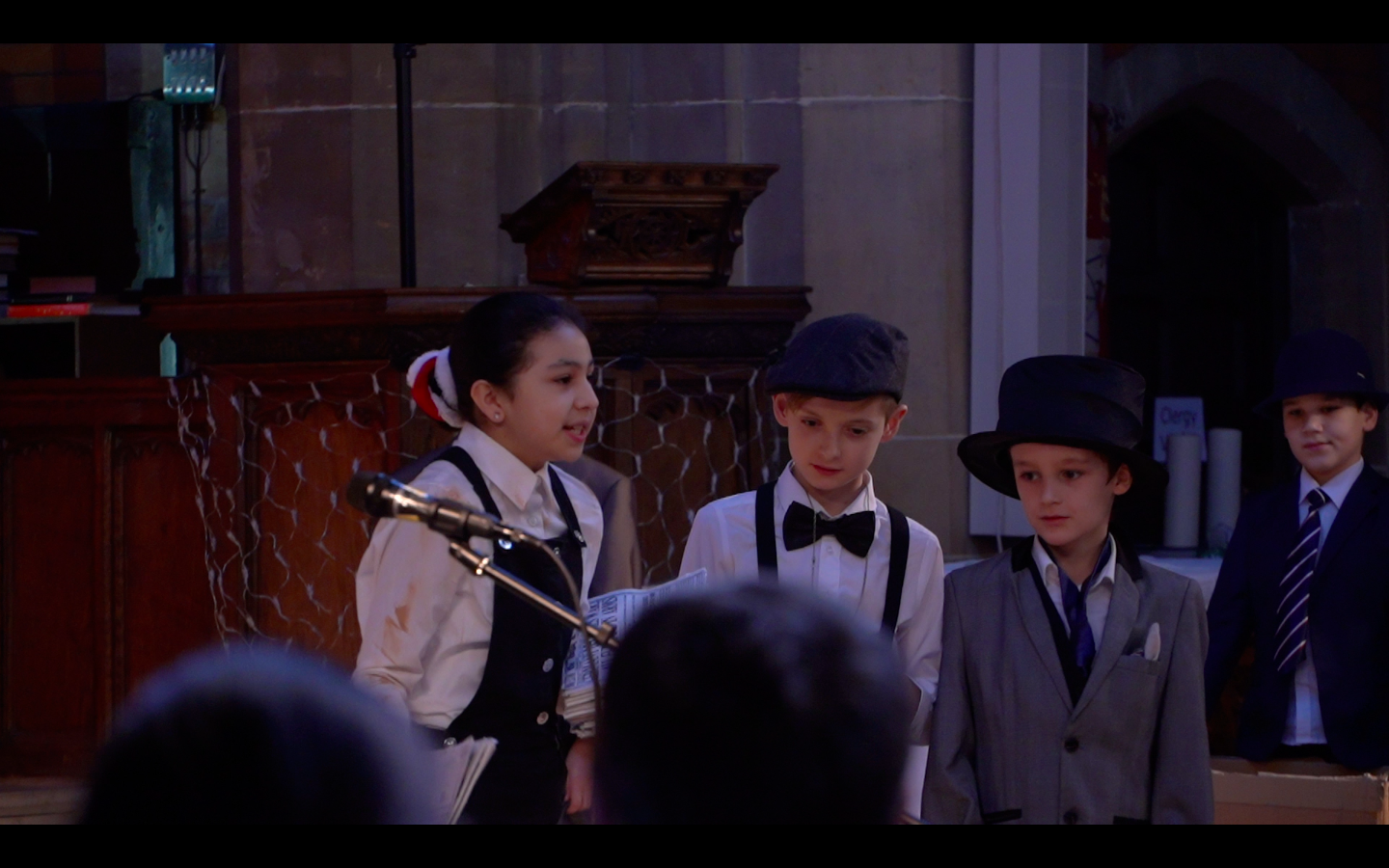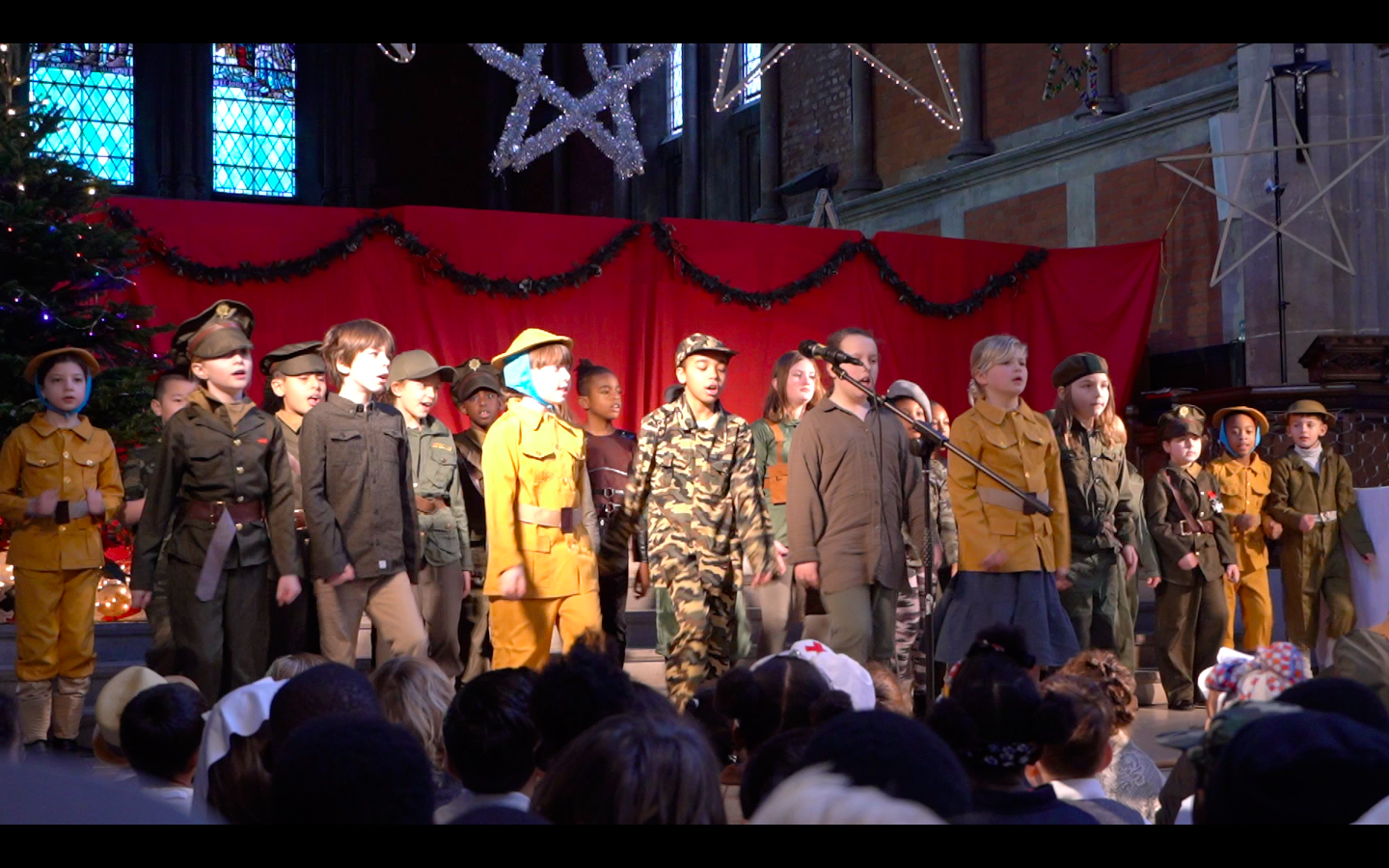 We celebrate music in a number of ways - for example:
Class Music Lessons:
Every child has weekly music lessons delivered by the class teacher from the online scheme Charanga.
These lessons develop the skills of listening, singing, notation, rhythm, composition, and learning how to play musical instruments. There is ample opportunity for children to develop their skills and knowledge and perform to each other in class lessons as well as to other year groups or in assembly.
Singing:
We are officially a Sing Up School, as we are always singing, and each year take part in the Sing Up Day with other schools.
Every week the whole school comes together to sing in assembly, and the children learn new songs, learn to sing in parts and generally have lots of fun singing their hearts out.
Music and Performances in the Community
We are lucky enough to be able to perform and share the space at our local church St Catherine's Hatcham. At Harvest 2021, Year 5 and 6 led our celebrations in front of parents for the first time since the pandemic. They told the stories and experiences of refugees, and how we should care for our global family. This was part of the children's learning in PSHE and our whole school value of Community. We were able to donate to The Lewisham Donation Hub and the work that they do for refugees in Lewisham, which is also a Borough of Sanctuary.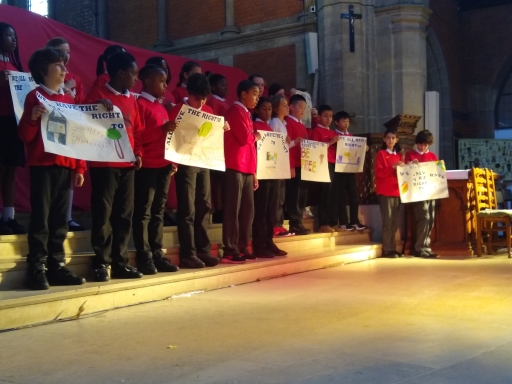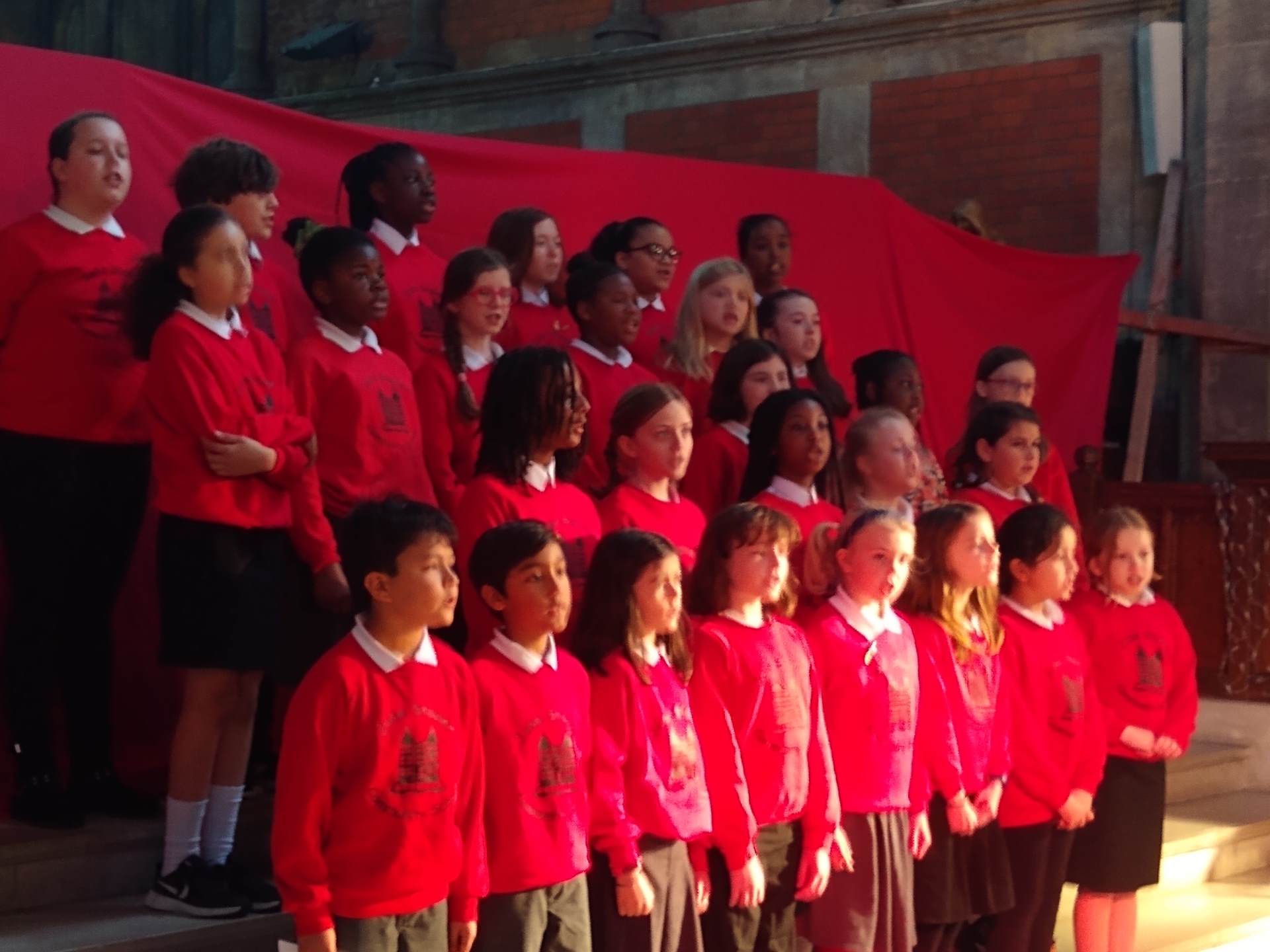 School Orchestra:
The School Orchestra is an amazing feature of music in our school.
Run by David and Mary Schweitzer (parents of children in John Stainer), and an army of parent helpers for each section; the orchestra meets every Wednesday before school starts and is open to anyone in Years 3-6. We have instruments ranging from trombones to violins and drums to saxophones, and many more besides. The children perform regular concerts for the school as well as for parents, and they have entertained audiences with music as diverse as Angry Birds and The Star Wars Theme: these concerts are a hugely anticipated event in the school calendar.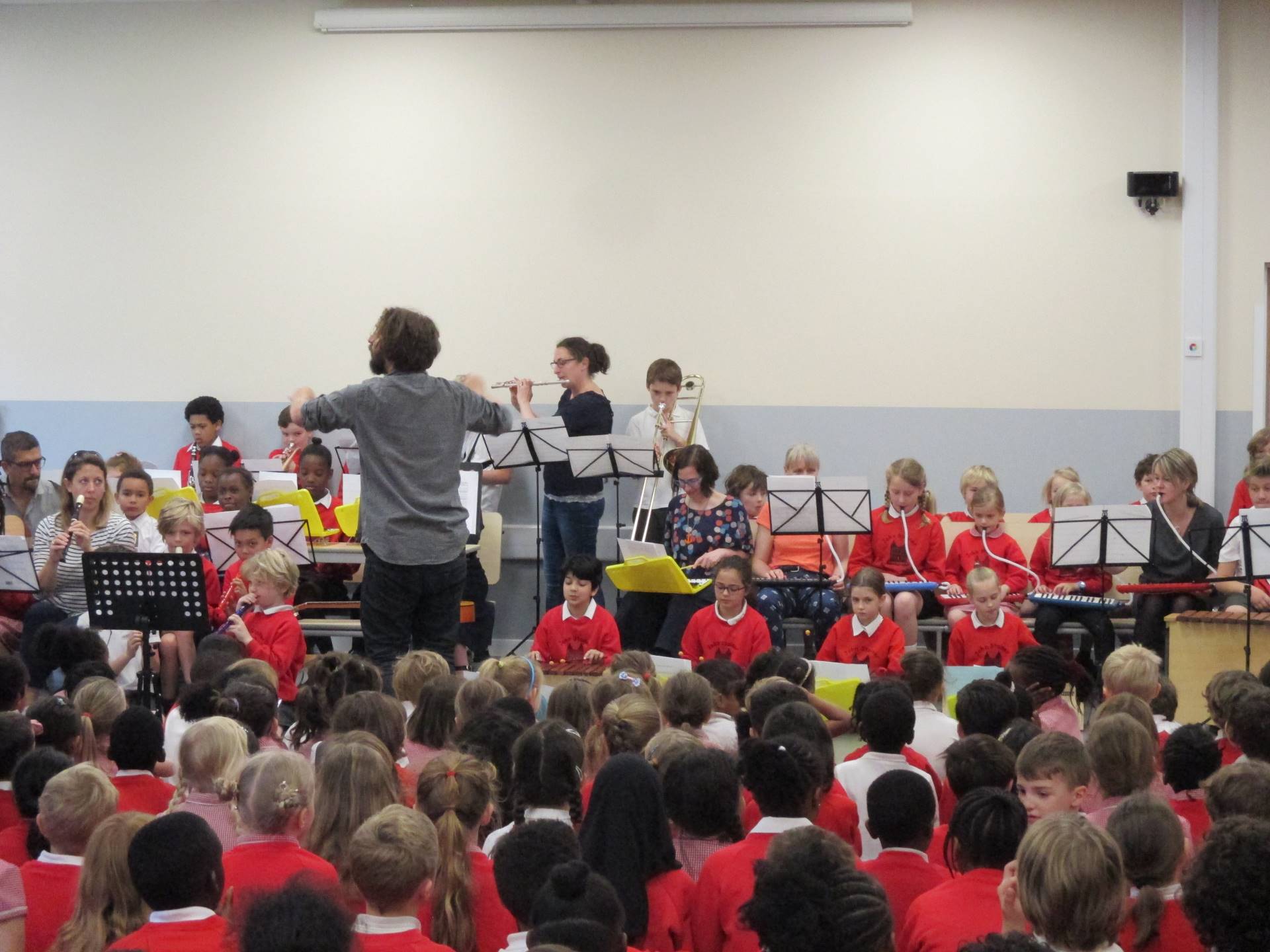 Our fabulous orchestra performing in the school hall!
Such a range of abilities and instruments. We are so lucky to have a great band of volunteer parents who give up their time every week to work with a section of the orchestra, so that they sound tip-top!
School Choir:
Now with 50 members, the school choir goes from strength to strength.
They meet afterschool on Thursday afternoons and enjoy singing a variety of music and often in two or three parts. They have performed both within school at concerts and assemblies, as well as in the community. Over the past few years they have sung at an inter-school concert with other Primary Schools at Deptford Green Secondary School, at St. Christopher's Hospice, singing carols to the patients there, and most excitingly at a music festival at The Tower of London!
The Choir hearing all about the history of the Tower of London on their pre-visit tour of the Tower.
The choir performing at St. Christopher's Hospice in Sydenham.
A thrill for us, and a chance to give a little something back, as we entertain the patients and their families in the beautiful day room.
The choir also performed at the book launch of one of our ex-teachers, Mr Bethune, at South Bank University. Watched by academics, experts in education and other important dignitaries.
It was an honour to perform in front of so many important people, and a very late night for some, as we didn't get back until past some people's bed times!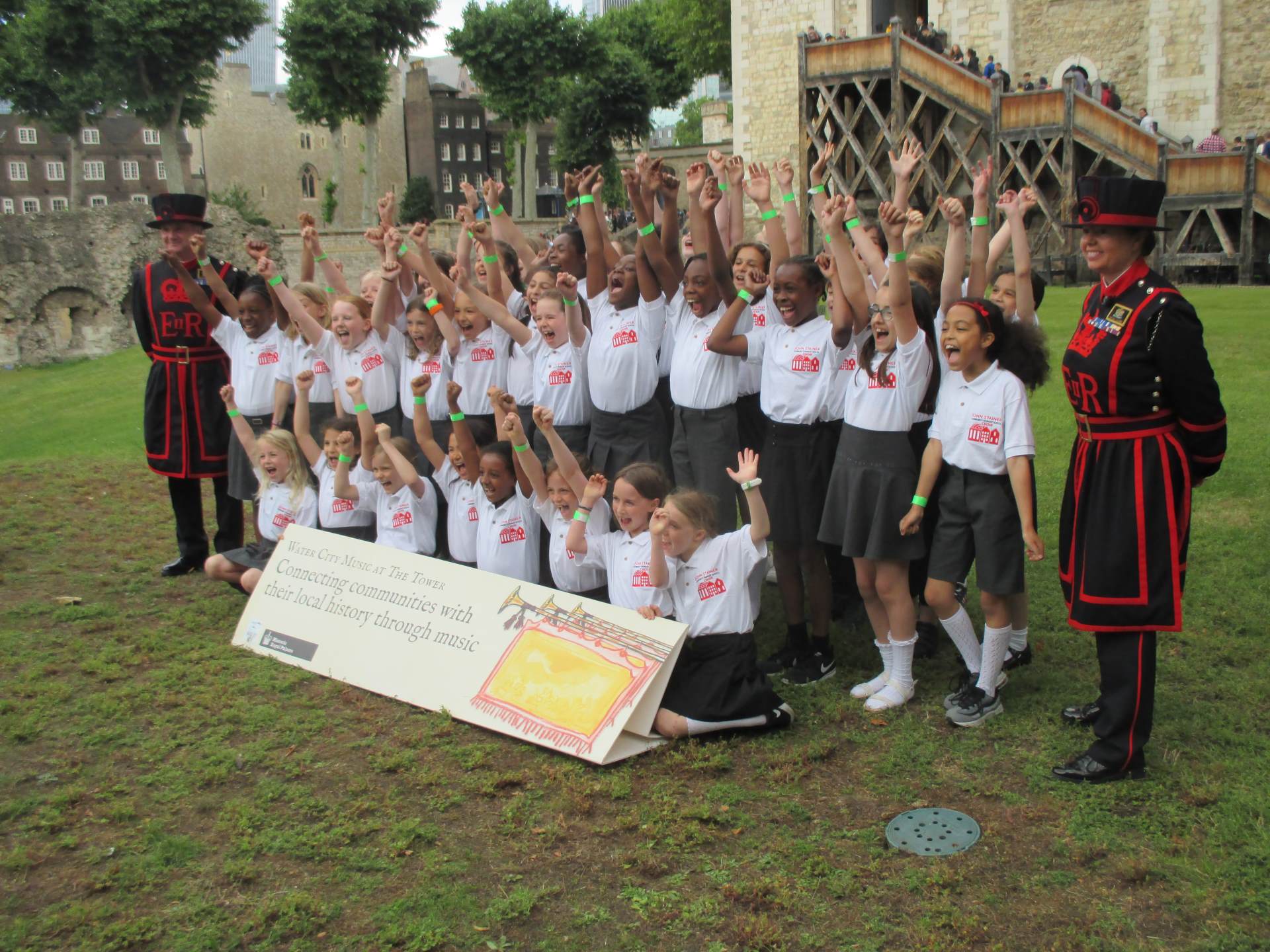 The Tower of London Choir trip. What an event!
Parent Choir:
The Parent Choir have returned year after year to perform at the KS2 Christmas Concert, and are an enthusiastic group of parents who enjoy learning to sing in parts and rehearse together before the concert.
Their item in the concert is eagerly awaited every year by the children!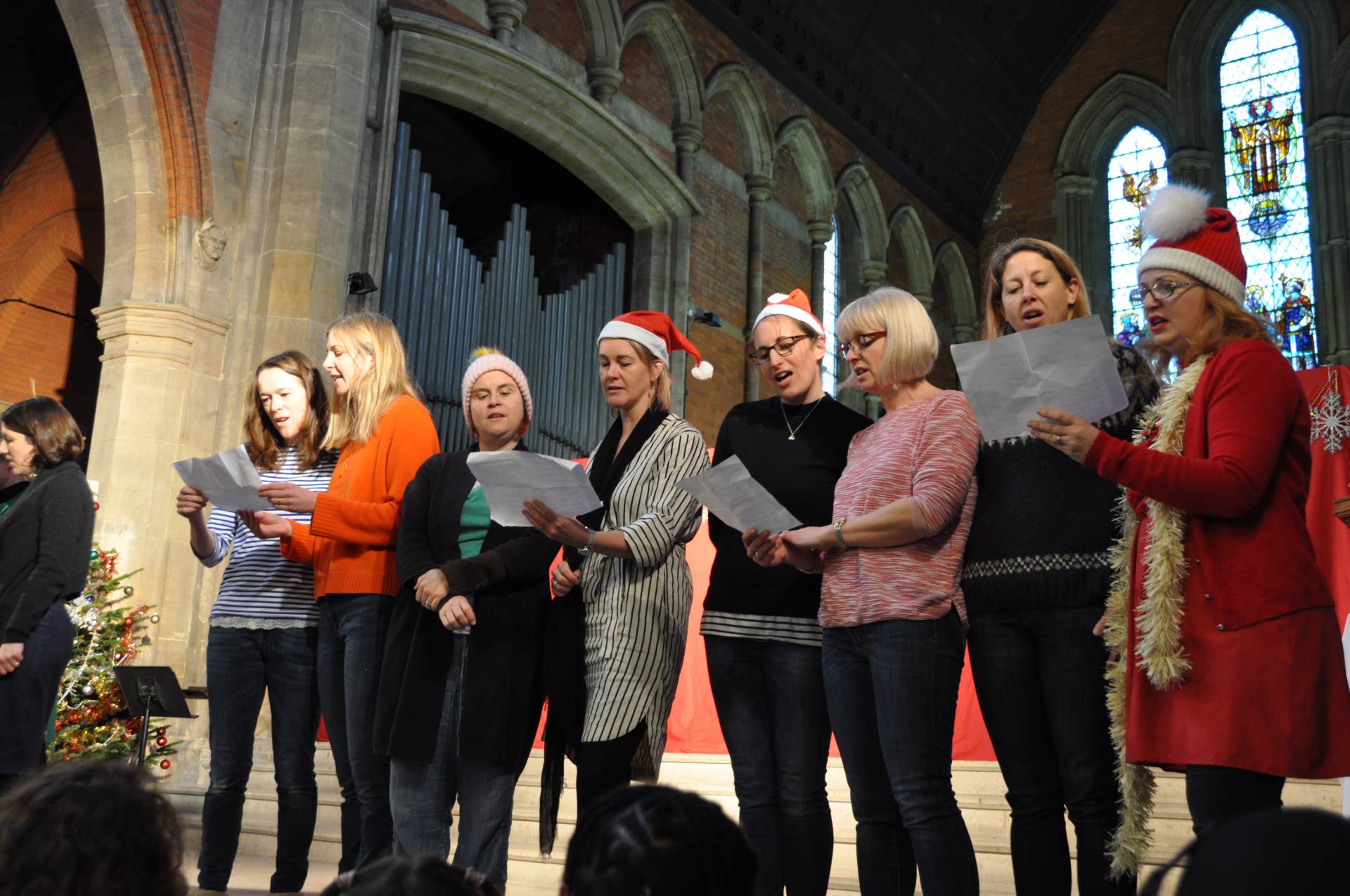 Music Trips and Visits:
At John Stainer School we believe in a full and rounded musical education for all pupils. As part of this we try to give the opportunity for all children to visit a live concert performance each academic year.
We visit The Barbican, The Wigmore Hall and The Royal Festival Hall to their special School's Concerts. So far this year Year One have visited The Wigmore Hall to see "Chimpanzees of Happy Town", Year Two have been to The Barbican to see "A cat called Scratch" and Year 5 were lucky enough to see West Side Story at The Barbican and join in with songs they had learned in class. We have also enjoyed visits from Trinity Laban students to perform live music to individual classes, as well as Harmony Sinfonia – a local orchestra- who have involved Year 6 children in workshops composing their own musical scores.
A tasty lunch before listening to another amazing concert at The Wigmore Hall!
Spring Concert:
In May we celebrate the immense talents of the musically gifted in our school. Any child can audition and then if successful, perform at the Spring Music Concert.
This is an opportunity for any child to sing or play an instrument in front of an audience. It is always an exciting mix of performances, with items ranging from drum solos, to cellos, keyboards to rock bands, solo singing to group performances. Parents come to the concert and there is not a spare seat in the hall.
Performances:
All children in the school are involved in musical concerts and performances which run throughout the academic year.
These are a celebration of music, singing, acting and performing and are a chance to showcase their enormous talents in these areas.
Christmas
At Christmas EYFS perform a musical version of The Nativity to both the whole school and the parents.
KS1 perform their own musical for Christmas which involves many songs and acting opportunities. KS2 walk up to St. Catherine's Church, and perform a themed Christmas Concert, with each class performing a high class item to a packed church – often with children leading the music by playing their own instruments.
Easter
At Easter the whole school comes together to celebrate with a big assembly.
Each class produce an item to share with the audience, and they are linked with songs and readings, and the local vicar Sheridan comes to share with us all. We usually have a theme that everyone follows, and this will link with our school value of Friendship also.
Summer Term Concerts
At the end of the Summer term concerts are a wonderful way to end the year.
EYFS perform a musical assembly to the parents, and KS 1 will usually write their own musical performance to showcase the topics the children have learned that year. At KS 2 the children will perform at St. Catherine's Church a class item to celebrate the final leaver's assembly and prize giving for Year 6. Year 6 always rise to the challenge by performing an amazing production of their own. Past titles include Romeo and Juliet, Pirates of The Curry Bean, Robin Hood and Roald Dahl's Cinderella. The children always bring the house down, and no doubt enjoy every moment of it.
Here are some photos of last year's performance of Sheherazade: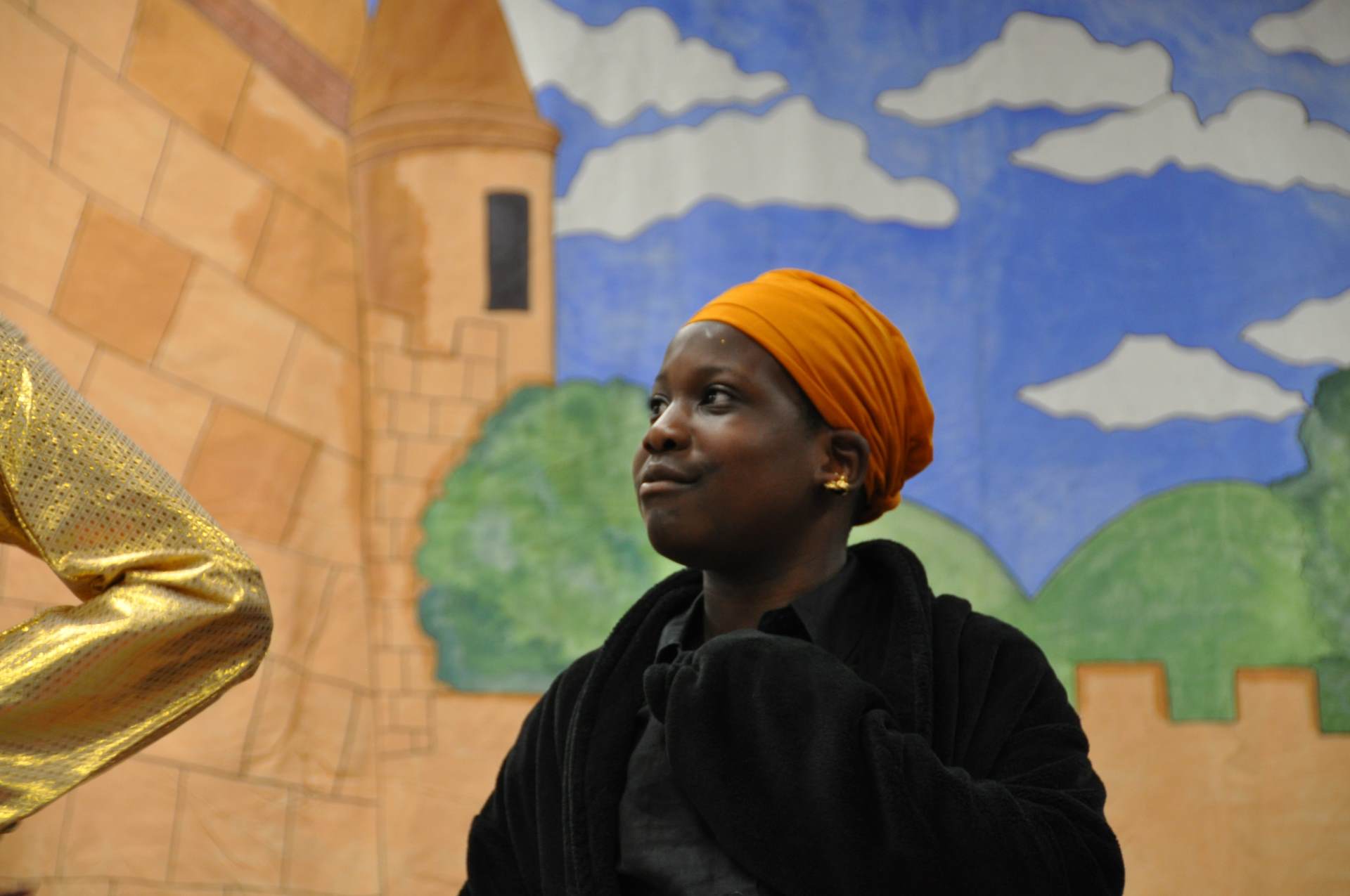 Intent
Music enhances children's learning and their whole experience at school.
To give all pupils a wide range of musical experiences to develop as a confident, resilient and motivated individuals; inspired to achieve and inspired to believe.
Promote music within the school and integrate it within the curriculum.
Raising the profile of music in school that contributes to raising the profile of the school in the local area. It is important that children see what their peers are doing through performance opportunities. It is also essential that the right people see all of the work we do; parents, teachers or governors as well as the wider community.
Implementation
At John Stainer, our Music curriculum is delivered through:
A programme of lessons taught for progression and depth and appropriate challenge opportunities.
Charanga Musical School units of work to enable children to understand musical concepts through a repetition-based approach to learning which enables a more secure, deeper learning and mastery of musical skills.
Weekly singing assemblies.
Extra-curricular activities and clubs, including choir.
Access to well organised and well-resourced instruments.
Groups which perform at a local events and other performance opportunities
Watching and taking part in concerts.
Assemblies and productions.
Educational Visits to the Barbican
Performances by Educational Visitors who visit our school for demo concerts and workshops.
A rich, vibrant and talented parent-led orchestra which consists of over 50 children.
Impact
We know that our Music Curriculum has the desired impact when:
Children show that they have an embedded understanding of musical skills and concepts.
Children are enthused about music.
Children develop new musical skills and concepts, and re-visit established musical skills and concepts.
Speak and perform with confidence.
Have the confidence to perform and evaluate performances.