History
Children at John Stainer enjoy a variety of history based topics each year.
We cover the teaching of significant people, events and places from both recent and the more distant past.
From History of Toys, Ancient Egypt and Ancient Greece to Vikings and World War II, children learn through using different sources of information and investigate the past using dates, historical vocabulary and artefacts. The curriculum also caters for visual, auditory and kinaesthetic learning styles. Children also explore their creativity through specific design and technology home learning; this gives them the opportunity to research, design and make their model which will then be showcased in a class exhibition where family and friends are welcome.
History allows our children to examine how and why things have changed over time, to handle artefacts where possible and to expand their research skills and ask good thinking questions. We want our children to understand how the past has helped to shape the present.
We ensure our lessons are engaging by using drama to re-enact events such as the failed invasion by the Persians at the Battle of Marathon. Learning is enhanced and reinforced by a range of visits and trips which include The Geffrye Museum, The Museum of London, The British Museum and The Horniman Museum.
National Curriculum in England
Purpose of Study
A high-quality history education will help pupils gain a coherent knowledge and understanding of Britain's past and that of the wider world. It should inspire pupils' curiosity to know more about the past. Teaching should equip pupils to ask perceptive questions, think critically, weigh evidence, sift arguments, and develop perspective and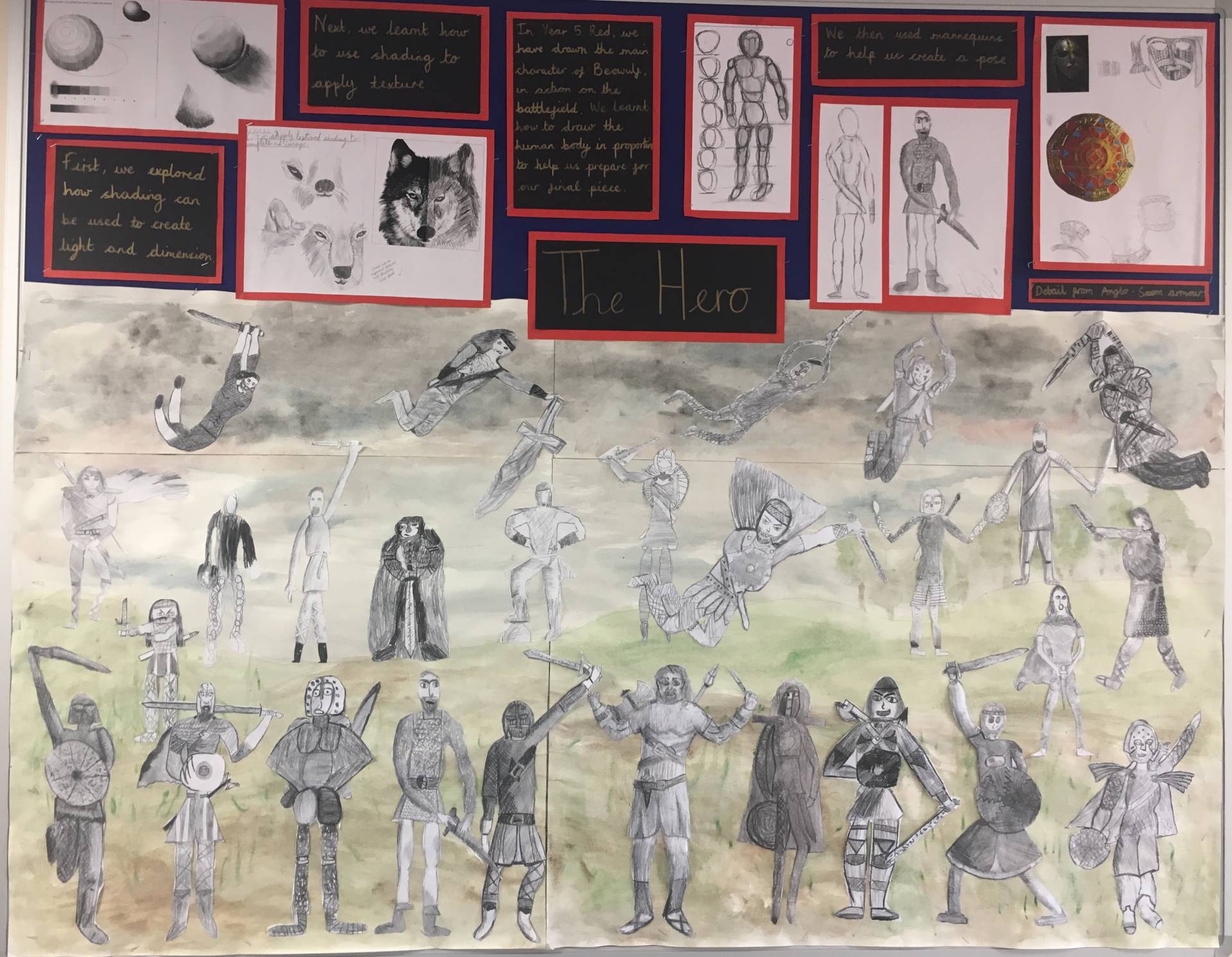 judgement.
History helps pupils to understand the complexity of people's lives, the process of change, the diversity of societies and relationships between different groups, as well as their own identity and the challenges of their time.
Aims
The national curriculum for history aims to ensure that all pupils:
Know and understand the history of these islands as a coherent, chronological narrative, from the earliest times to the present day: how people's lives have shaped this nation and how Britain has influenced and been influenced by the wider world
Know and understand significant aspects of the history of the wider world: the nature of ancient civilisations; the expansion and dissolution of empires; characteristic features of past non-European societies; achievements and follies of mankind
Gain and deploy a historically grounded understanding of abstract terms such as 'empire', 'civilisation', 'parliament' and 'peasantry'
Understand historical concepts such as continuity and change, cause and consequence, similarity, difference and significance, and use them to make connections, draw contrasts, analyse trends, frame historically-valid questions and create their own structured accounts, including written narratives and analyses
Understand the methods of historical enquiry, including how evidence is used rigorously to make historical claims, and discern how and why contrasting arguments and interpretations of the past have been constructed
Gain historical perspective by placing their growing knowledge into different contexts, understanding the connections between local, regional, national and international history; between cultural, economic, military, political, religious and social history; and between short- and long-term timescales.
Intent
At John Stainer, we believe that our high-quality history curriculum inspires children to become inquisitive learners, wanting to know more about the past and to think and act like historians.
Our history curriculum intends to:
To develop pupils' enjoyment and interest in history and how it relates to modern life.
To build on pupils' curiosity of events from the past and understand their significance.
To understand how human achievements have influenced society.
To use a range of historical sources to enhance pupils understanding and encourage analytical thinking.
To develop a knowledge of chronology within which the children can organise their understanding of the past.
To understand the similarities and differences between the present and the pas and to understand that people of other times and places may have had different values and attitudes from ours.
To address and devise historically valid questions and instruct informed responses
To introduce pupils to historical vocabulary.
To develop pupils' use of computing in their historical studies.
To understand the nature of evidence by emphasising the process of enquiry and by developing the range of skills required to interpret primary and secondary source materials.
To distinguish between historical facts and the interpretation of those facts.
Implementation
A cycle of lessons for each subject, which carefully plans for progression and depth.
Trips and visiting experts who will enhance the learning experience.
Impact
Our History curriculum is enriching. It tracks the child's learning journey of history through their school experience to allow for progression and retention. If children are keeping up with the curriculum, they are deemed to be making good or better progress. In addition, we measure the impact of our curriculum through the following methods.
Ongoing formative assessments in lessons.
Written pieces around their topic
Pupil discussions about their learning
Year group exhibitions to parents and others in the school community.
Beyond the Curriculum
London History Schools Day
London History Schools Day allows us to celebrate the capital's unique history and heritage. At John Stainer, we bring London's unique characters, past and present, to life with a dress-up day and activities. Below are pictures from our last LHSD. The theme for this years London History Schools Day is resilience. This is a brilliant opportunity to strengthen our Values Curriculum and celebrate in our Resilience Oscars for Summer 2022.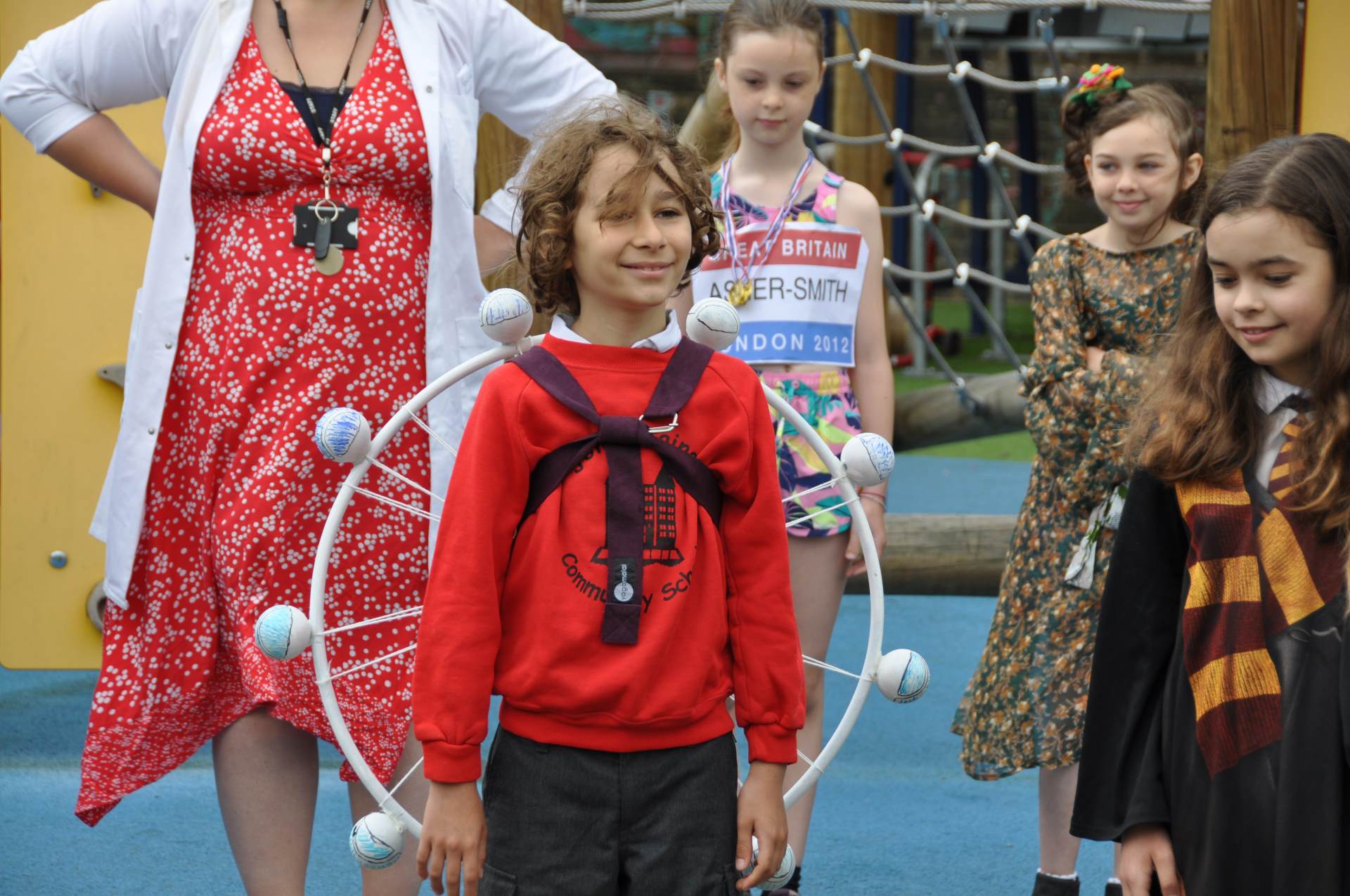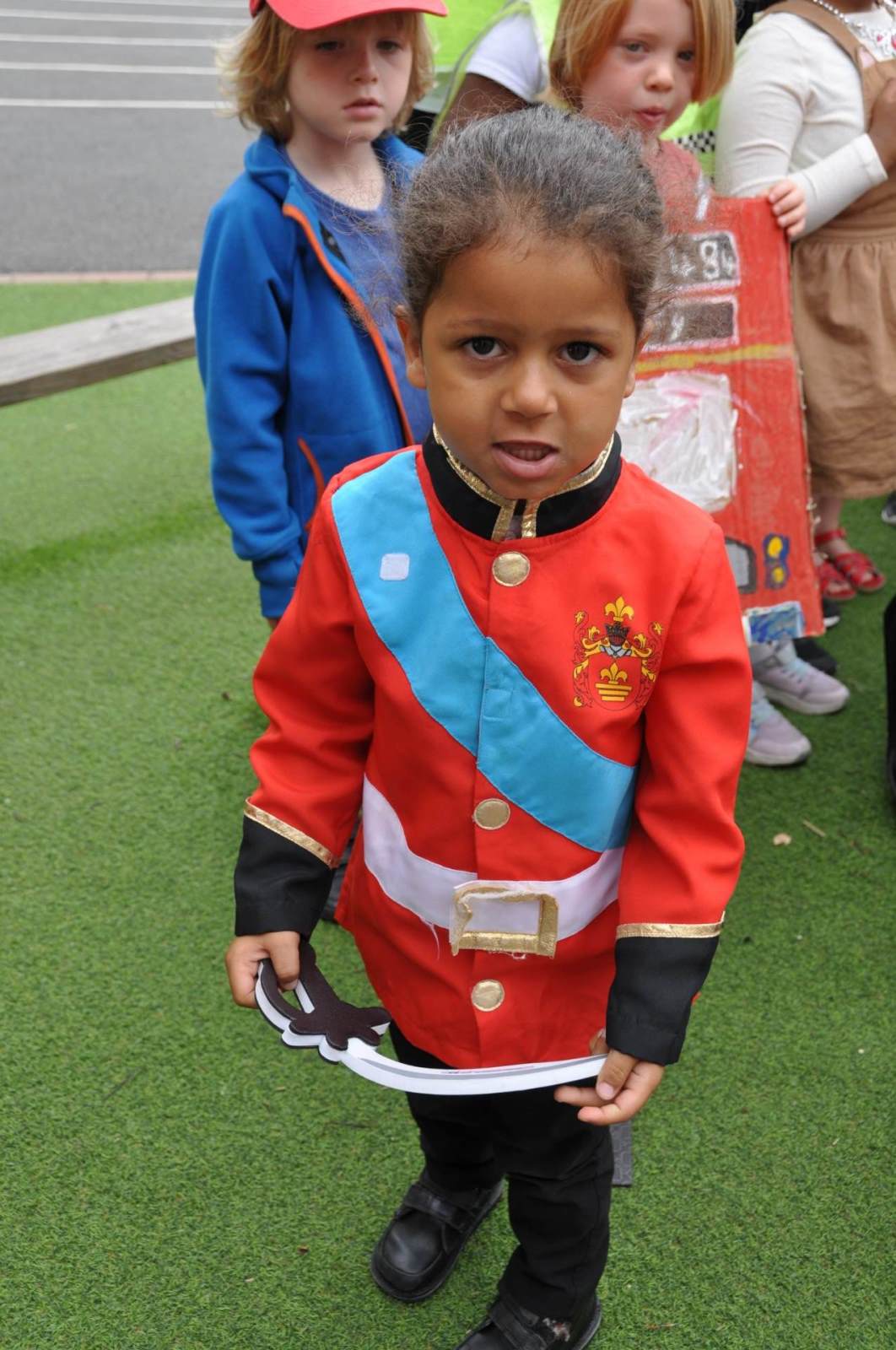 Black History Month
Enquiry Project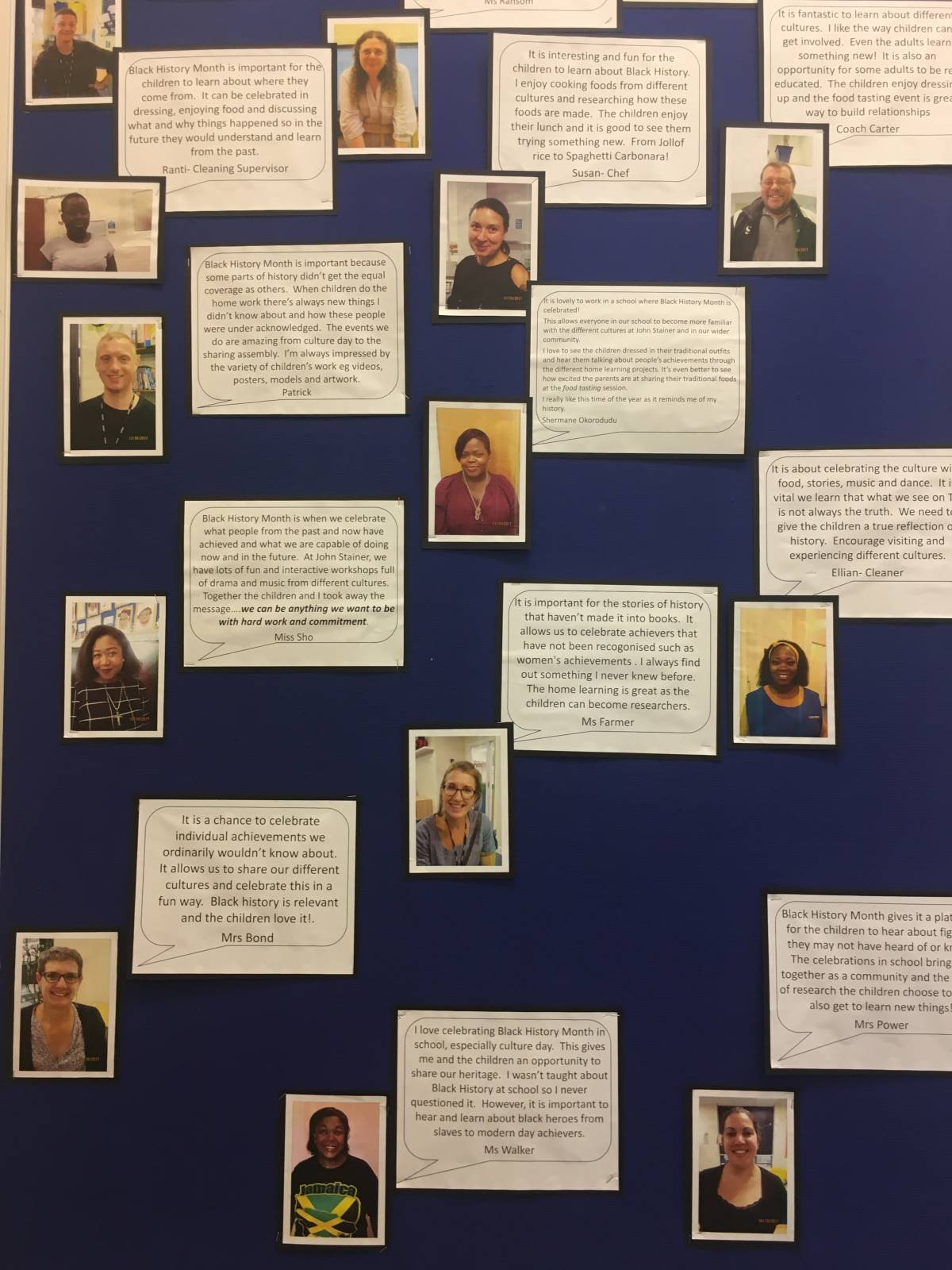 To Celebrate Black History Month, children's two weeks home learning is to follow a line of enquiry about an aspect of Black History and come up with a follow up question of their own to help answer the main question. This is an opportunity for the children to get really engaged in their own line of enquiry. They are encouraged to be as creative as they want in their presentation.
Black History "I Have a Dream" winners and runners up - 2018
Class

Winners

Runner up

Y1 Green

Tyler

He dreams that everyone has food and he could help by giving to the foodbank.

Matilda

She dreams of stopping the wars. Matilda would like to help by telling people to be kind and talk not fight.

Y1 Blue

Jessica

She dreams of a planet with no rubbish. Jessica can help by using less plastic and recycle.

Kayden

Dream of people loving each other and they are not sad.

Y2 Maroon

Zaccai

He dreams of children having someone to look after them.

Zaccai wants all children to grow up and be happy

Kian

Kian dreams that children will be in a world where they are not worried about anything e.g. food, clothes

He would like people to keep talking about it just like Martin Luther King and try to make people understand.

A good start would be for the rich people to share their money with their neighbours and community.

Y2 Navy

Agatha

Agatha dreams of stopping plastic going into the sea and people eating shark fins.

She will help by recycling items like water bottles and plastic bags

Lucas

Lucas dreams of a superhero that fights for truth and justice.

Y3 Lime

Rubin

Ela

Y3 Violet

Cara

Olive

Y4 Aqua

Max

Dean

Y4 Pink

Ellis

Samora

Y5 Orange

Keyaan

Kemanee

Y5 Purple

Louis

Frida

Y6 Red

Rosa

Lilly

Y6 Yellow

Elisa

Claire
Black History project displays
The winners and runner up projects were displayed for all to see. There was a Madame C.J Walker salon with shelves of original products and Madame C.J Walker Doll sitting in the salon!
Culture Dress Up Day
Our usual Culture day dress up event is always a blaze of colour and excitement. Children, parents and staff wear traditional clothes from their own or someone else's culture.
Fresh Theatre Company
We began our month of Black History celebrations with the amazing Freshwater theatre Company who were engaging, inclusive, informative and inspiring.
The children from both Key Stage 1 and Key Stage 2 thoroughly enjoyed the workshops.
Key Stage 2 took part in the"Black History- A celebration" workshop. This enabled the children to discover more about the abolition of slavery and the Windrush generation, they also encountered some unsung heroes from Black history.
In Key Stage 1, children saw the tales of" How Anansi became King of all the Stories" and "How the Zebra got his Stripes" dramatically unfold as the children created vibrant African scenes from the "Stories from Africa" workshop.
The Early Years children enjoyed the "A Carnival of Stories" workshop which took them on a sensory journey starting in England in 'Amazing Grace', then onto Kenya in 'Handa's Surprise' and finally to the Carribean in 'Island Counting', with interactive activities based around these stories.
Views on Black History Month
"I liked how the teacher asked us to come and act because I love acting." Isa Y3

"I liked trying different things like sushi and polish sausage. It was nice to try new things and finding out what it is and made of." Imogen Y3

"I like it because it shows how we are equal no matter what" Evlyn Y5

"I like it because we learn about heroes who society have forgotten because of their skin." George Y5

"I enjoy learning about people especially black women who are not recognised." Aphra Y6

"It was awesome! A good experience for new comers!" Michael Y6

"I enjoy discovering new people who have changed the world." Aaron Y3

"We celebrate lots of achievements by other races and this allows us to also celebrate the lives of black people." Sascha Y5




"It is nice to know how people played their important parts in history." Manny Y6

"The homework allows you to be creative in your presentation and I enjoy finding out new facts."

Sabrina Y6

"I enjoy Black History Month as I get to learn new things and especially making models for the home work." Jasmine Y4

"The homework allows you to be creative in your presentation and I enjoy finding out new facts." Sabrina Y6

"I enjoyed learning about the inventors and what made them come up with their ideas." Nur Y6