English
A strong foundation in reading and writing underpins our children's future success.
We aim for all pupils to leave John Stainer School as fully literate individuals, enjoying reading for pleasure and purpose, and able to communicate clearly and effectively through speaking and writing.
Reading for pleasure is one of the most important indicators of your child's future success. We encourage children to read for pleasure as much as possible!
What we teach
At John Stainer we teach to the new National Curriculum for English, and the Early Years Foundation Stage Curriculum.
We have developed our own teaching framework to enable our children to learn in a rich and progressive way. Every term children make progress with their speaking, reading and writing through carefully-planned teaching sequences.
Teaching Writing
At John Stainer School we use the 'Talk for Writing' approach developed by Pie Corbett to teach children how to be effective writers. We teach essential reading skills through the use of high-quality literature. Teachers then develop children's skills through the study of stories and other types of writing. Children read, write and perform poetry throughout the year to stimulate their curiosity and use of language. Talk for Writing centres on the belief that if children cannot say something, then they will not be able to write it. It enables children to imitate the language they need for a particular topic orally before reading it, analysing it, and then writing it down.
Children learn and internalise a new story or model text using a text map to guide them. They imitate new language patterns, and learn the structure.
Together the class 'read as writers' and borrow the tips and tricks to build their own writer's toolkit.
The teacher demonstrates how to write down a new version of the story, exploring language and developing characters, settings and events, before the children have a go for themselves. They have lots of ideas!
We use the Talk for Writing approach in our non-fiction writing too. It lets us experiment with language patterns and ideas so that we can be really confident about writing in different genres.
Spelling, Punctuation, Grammar and Handwriting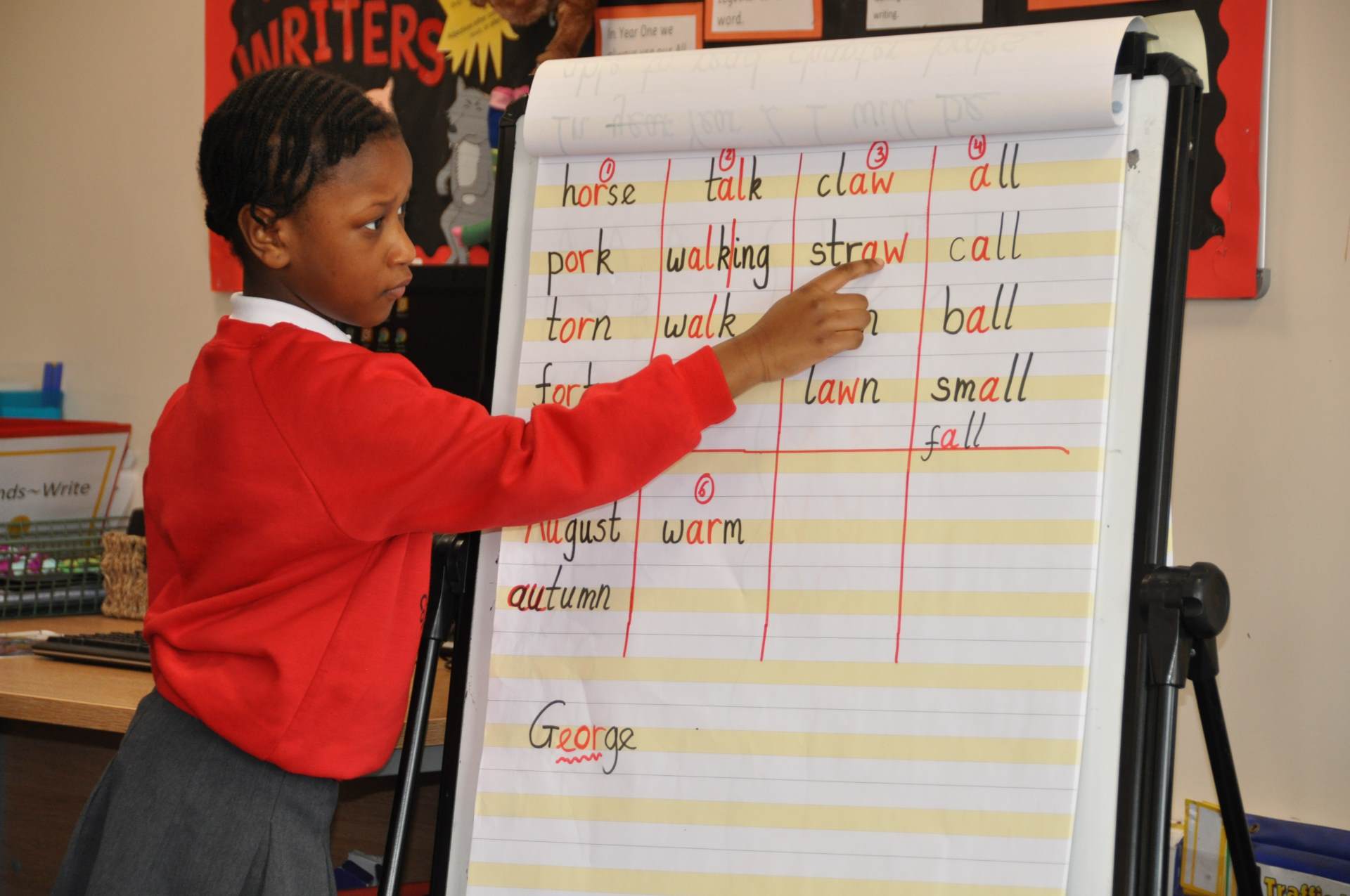 Spelling, grammar and handwriting are vital skills which enable children to become confident and proficient writers. We try hard to teach punctuation and grammar in context so the children can really understand why and how we can use these tools to good effect in our writing.
We teach the important skills of spelling and handwriting discretely, and ask that you support us in this at home.
We teach the printed alphabet in the Early Years, moving through pre-cursive (with 'flicks') in KS1 aiming for fully joined cursive writing once the child is ready in KS2.
Encouraging correct grip and letter formation is essential, and we ask you to encourage this at home. As children learn new letters, we encourage them to form them correctly, as it is so much easier learn good habits early than correct poor habits later. You can find our handwriting policy here and our school handwriting style and letter families here.
Teaching Reading
Reading comprehension is taught to ensure that children understand what they are reading. This happens informally when hearing individual children read and through class discussion in all subjects.
In Key Stage 2, the Destination Reader programme is used to support the teaching of reading in Key Stage 2. This is a pedagogical based approach to teaching reading through engaging, structured sessions that support children to read with greater understanding, enjoyment and purpose. It involves lessons incorporating whole class modelling prior to the children applying these skills through partner work and independent reading. Children deepen their understanding of the texts they read through the systematic use of a series of strategies and language stems.
Children are taught learning behaviours which allow them to explore literature together, develop shared understanding of texts, discuss and share their ideas and opinions and analyse literature and co-construct meaning and connections. These learning behaviours are supporting and actively listening to others, discuss and explain our ideas and take responsibility for our own and our group's learning. These behaviours are taught and practised and used in every Reading lesson and across the curriculum. They support children to engage, being active learners, recognise the value of everyone's contribution / input in lessons and take responsibility for their learning.
The program covers seven key skills identifies within the national curriculum to support the reading and understanding of a wide range of texts. These are:
Predicting
Making connections
Asking questions
Evaluating
Inferring
Summarising
Clarifying
While children read their book with their partner, they are encouraged to stop and have discussions in a respectful way using the learning behaviours they have learned, and also through addressing a variety of these skills, some of which will be being specifically teacher taught using sentence stems in the same way.
Children who may find the class text difficult to access independently are supported by working with an adult or may have a more accessible text to use to apply the skills being modelled / developed.
Intent
Phonics (reading and spelling)
At John Stainer Primary, we believe that all our children can become fluent readers and writers. We start teaching phonics in Nursery and Reception and follow the Sounds Write programme. This is a highly structured, systematic synthetic phonics program which ensures that children build on their growing knowledge of the alphabetic code, mastering phonics to read and spell as they move through our school.
As a result, all our children are able to tackle any unfamiliar words as they read. We also model the application of the alphabetic code through phonics in shared reading and writing, both inside and outside of the phonics lesson and across the curriculum. We have a strong focus on language development for our children because we know that speaking and listening are crucial skills for reading and writing in all subjects.
Comprehension
At John Stainer Primary, we value reading as a crucial life skill. This is why we teach Reading through Destination Reader. This supports comprehension and promote a rich reading culture using high quality texts which are central to the curriculum. We encourage our children to see themselves as readers for both pleasure and purpose. By the time children leave us, they read confidently for meaning and regularly enjoy reading for pleasure. Our readers are equipped with the tools to tackle unfamiliar vocabulary.
Because we believe teaching every child to read is so important, we have a Reading Leader who drives the early reading program in our school. This person is highly skilled at teaching phonics and reading, and they monitor and support our reading team, so everyone teaches with fidelity to the Sounds Write Phonics programme and Destination Reader.
Implementation
Foundations for phonics in Nursery
We provide a balance of child-led and adult-led experiences for all children that meet the curriculum expectations for 'Communication and language' and 'Literacy'. These include:
sharing high-quality stories and poems
learning a range of nursery rhymes and action rhymes
activities that develop focused listening and attention, including oral blending
attention to high-quality language.
We ensure Nursery children are well prepared to begin learning grapheme-phoneme correspondences (GPCs) and blending in Reception.
Daily phonics lessons in Reception and Year 1
Children make a strong start in Reception. We build from 10-minute lessons, with additional daily oral blending games, to the full-length lesson as quickly as possible. In Year 1 and Year 2, we teach phonics for 30 minutes a day.
Impact
Formative assessment is used to monitor progress and to identify any child needing additional support as soon as they need it.
Assessments are used daily within class to identify children needing support or challenge. Staff also assess gaps, address these immediately and secure fluency of GPCs, words and spellings.
Summative assessment is used:
every six weeks to assess progress, to identify gaps in learning that need to be addressed, to identify any children needing additional support and to plan additional support that they need.
by the Reading Leader and scrutinised through the

Sounds Write assessment programme, to narrow attainment gaps between different groups of children and so that any additional support can be put into place.
Statutory Assessment
Children in Year 1 sit the Phonics Screening Check. Any child not passing the check re-sits it in Year 2.
Ongoing assessment for catch-up
Children in Year 2 to 6 are assessed through their teacher's ongoing formative assessment as well as through the half-termly

Sounds Write assessments, which are carried out in other year groups.
Beyond the Reading curriculum
World Book Day is so much fun at John Stainer. Do you recognise these book characters?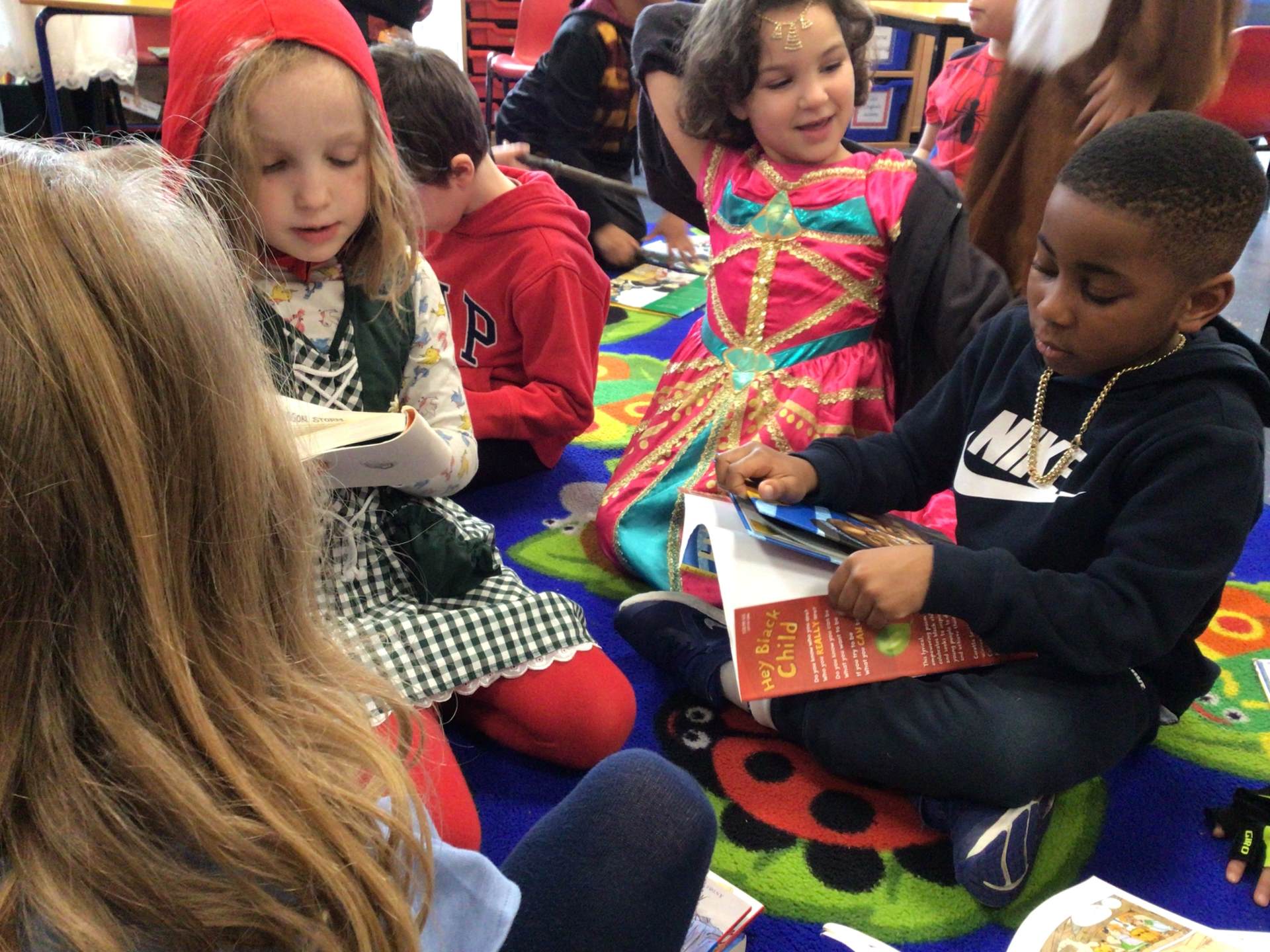 Values Oscars - Summer 2022
Values Oscars
Each year we host our Values Oscars where the children choose a book character who has demonstrated the chosen value in a reading book of their choice. The children write a brief explanation on why their chosen book character deserves recognition and should win. The winning characters are revealed after nominations are shortlisted and whole school voting has taken place in the ceremony. We have a lavish and spectacular Oscar Star Award Ceremony, to which parents, children and staff wear their finery, glitz and glamour.
Staff dress in role, to represent these great characters who all have their special moment on the red carpet. Winners receive a trophy (and thunderous applause).
We were so excited to welcome James Carter to John Stainer School. He inspired us with his poetry readings and workshops.
Join us at our regular poetry shows. Every class performs a poem that they have learned.
Father Christmas loves sharing stories when he comes to visit.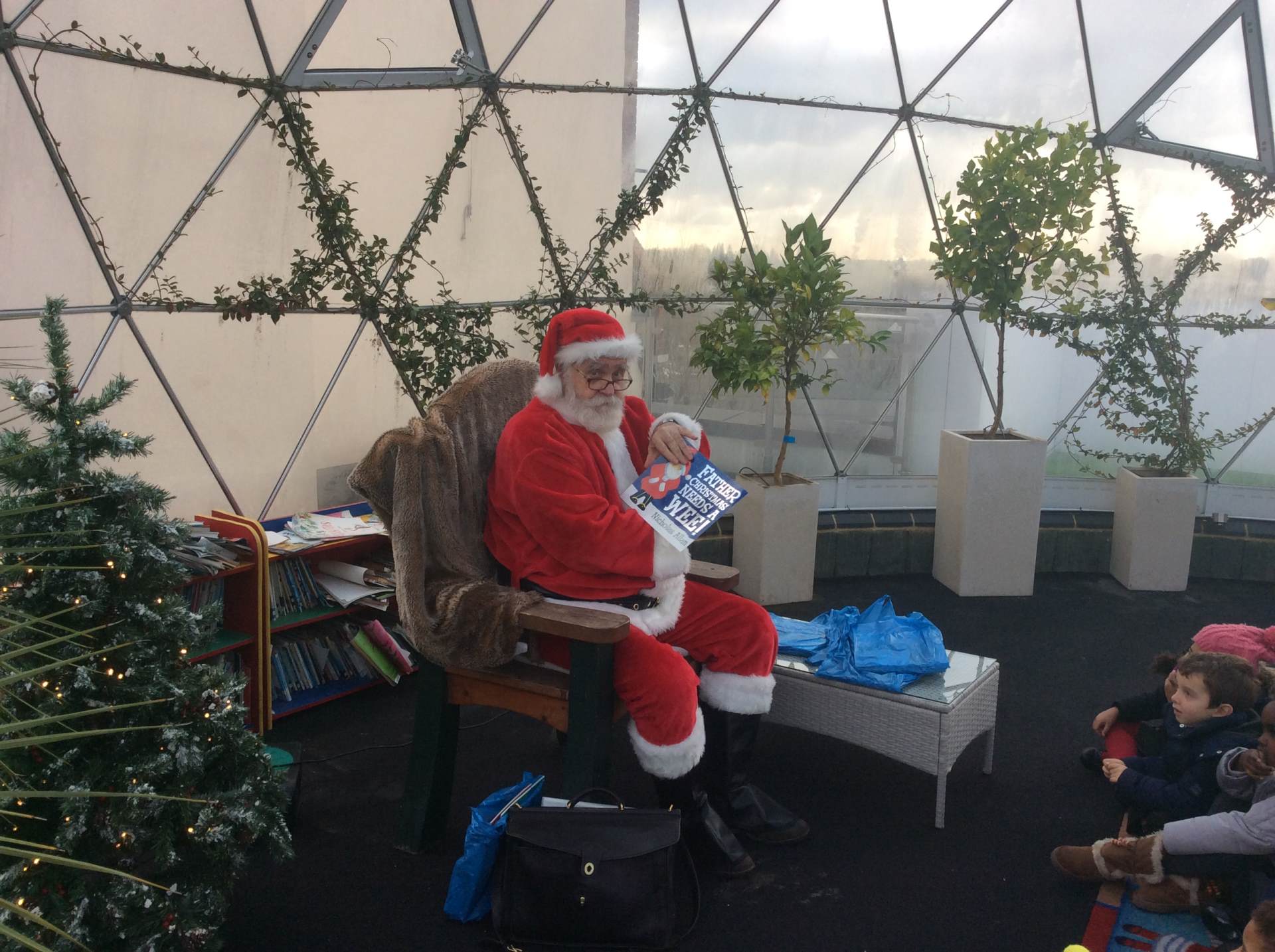 We love to welcome and work with visiting authors and poets. Here are Oladele and Louisa from Kunda Kids who came to share their wonderful books about Africa's ancient history and culture.
How to help your child at home
Home support is key to reading success and we ask that you read with your child every day. Reading aloud should be the first thing you start and the last thing you give up with your children.
Aside from being a fantastic shared experience, it teaches the essential skills of prediction, inference and deduction. It is the best way to develop your child's language and love of learning. Do it every day, and don't stop when your child is able to read.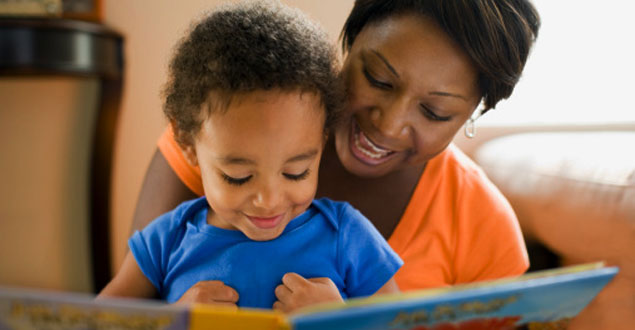 Listening to audio books together, in the car or at bedtime is a great way to enjoy literature without turning a single page.
The Sounds-Write programme that we follow in school has a fantastic app for ipads which you can use to support your child's learning.