Computing
At John Stainer our vision is to enable our children to become confident and creative digital learners and responsible digital citizens who have the skills to thrive in an ever changing, technological world.
We recognise that Computing is an integral part of daily life and therefore our aim is to teach our children to be confident, effective and safe users of technology.
We are passionate about Computing and use mobile technology to engage and excite children across all areas of the curriculum. We are well resourced and our children learn using a variety of devices including iPads, laptops and desktops. We have also explored virtual reality experiences with Google Expeditions.
In KS1 children are taught to:
• Understand what algorithms are, how they are implemented as programs on digital devices, and that programs execute by following precise and unambiguous instructions
• Create and debug simple programs
• Use logical reasoning to predict the behaviour of simple programs
• Use technology purposefully to create, organise, store, manipulate and retrieve digital content
• Recognise common uses of information technology beyond school
• Use technology safely and respectfully, keeping personal information private; identify where to go for help and support when they have concerns about content or contact on the internet or other online technologies
In KS2 children are taught to:
• Design, write and debug programs that accomplish specific goals, including controlling or
simulating physical systems; solve problems by decomposing them into smaller parts
• Use sequence, selection, and repetition in programs; work with variables and various forms of input and output
• Use logical reasoning to explain how some simple algorithms work and to detect and correct errors in algorithms and programs
• Understand computer networks, including the internet; how they can provide multiple services, such as the World Wide Web, and the opportunities they offer for communication and collaboration
• Use search technologies effectively, appreciate how results are selected and ranked, and be discerning in evaluating digital content
• Select, use and combine a variety of software (including internet services) on a range of digital devices to design and create a range of programs, systems and content that accomplish given goals, including collecting, analysing, evaluating and presenting data and information
• Use technology safely, respectfully and responsibly; recognise acceptable/unacceptable behaviour; identify a range of ways to report concerns about content and contact
Curriculum Overview for Computing and Online Safety
We are using the NCCE scheme of work to ensure a consistent and progressive approach to computing. To see what we are learning each half term, see our Curriculum Overview for Computing.
Online Safety
Keeping children safe online is one of our highest priorities. We teach online safety in a number of ways: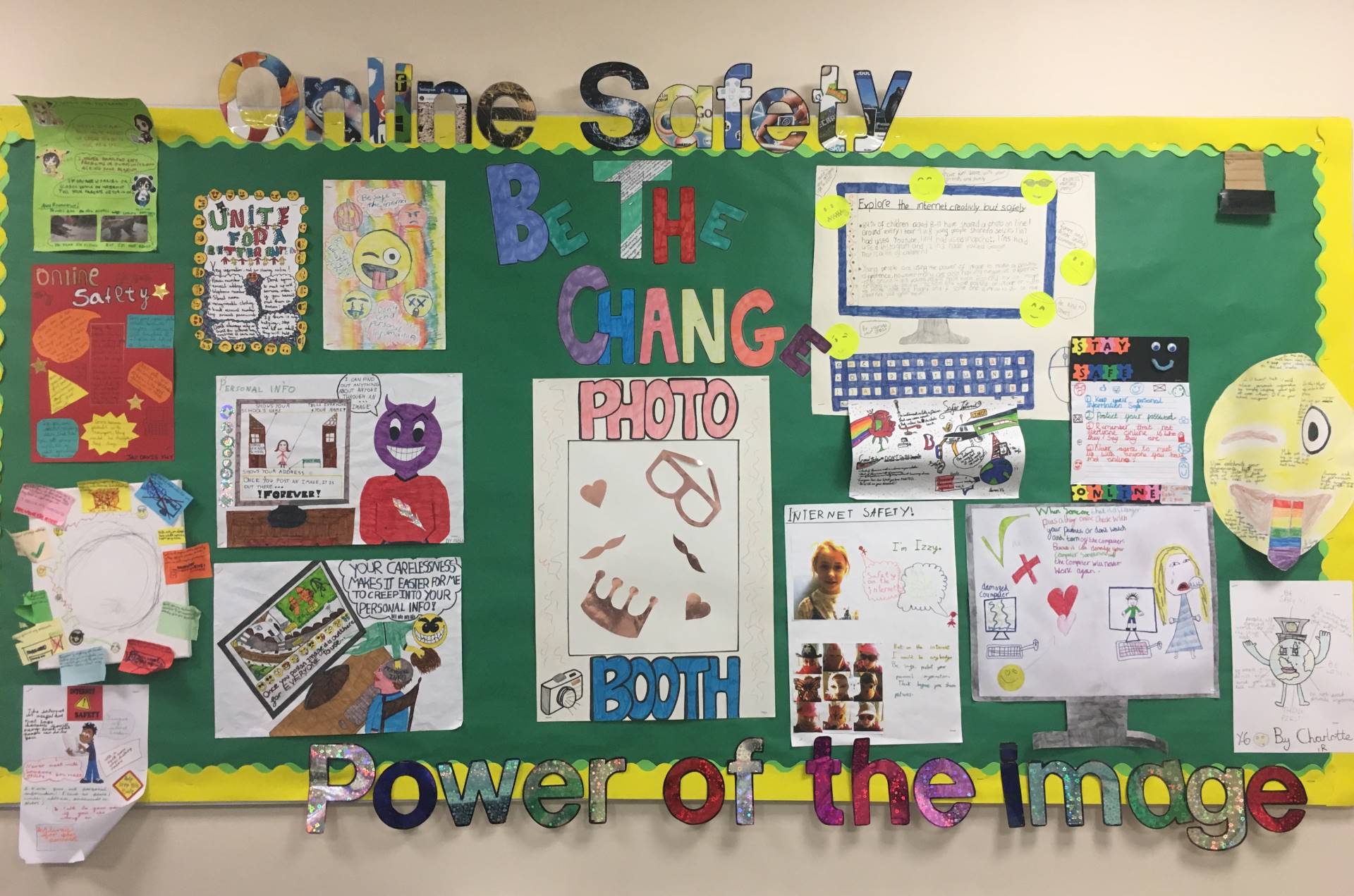 Online Safety is addressed in context, in all subjects and situations where pupils engage with technology.
All children sign an Acceptable Usage Policy (AUP) at the start of the academic year in order to ensure that they understand how to use technology safely.
In weekly Computing lessons, specific online safety issues will be addressed in accordance with the unit of work.
To ensure age appropriate coverage of the main online safety objectives, we also use a scheme of work called Project Evolve to teach an age specific focused online safety lesson every half term. Project Evolve is linked to the

UK Council for Internet Safety's (UKCIS) framework

"Education for a Connected World".
As a school, we participate in Safer Internet Day, work with the NSPCC and the Breck Foundation and we hold regular online safety assemblies.
All staff receive annual training in online safety.
Find out more about when the next Safer Internet Day will be.
Computing clubs and events
In addition to technology focused after school clubs, we run a regular weekly Code Club where children can work on their own projects and further develop their programming skills.
I enjoyed learning about coding in class and I was inspired to come to code club. Since I've been coming, I've been learning how to program sprites to talk and move around, and I feel more confident.

Tajay
Find out more by visiting our Code Club blog.
We use resources from the organisation Code Club so that children can work independently during these sessions and at their own pace. Miss O'Mahony is available to offer help and we are also lucky enough to have a weekly volunteer from Morgan Stanley. Find out more about the Code Club organisation.
As a school, we also take part in the annual Hour of Code - a worldwide event - which promotes coding and encourages children to explore coding further using a range of enticing games.
Hour of Code is a great website to use at home, as there are lots of free courses and games!