Communication during the Covid-19 school closure
Good morning everyone!
Friday 7th August Follow us on Twitter @johnstainersch1
I hope you are all keeping safe and well, and enjoying this glorious summer weather!
As Mrs Okorodudu is preparing to take over as headteacher of the school, lovely little Douglas is also lea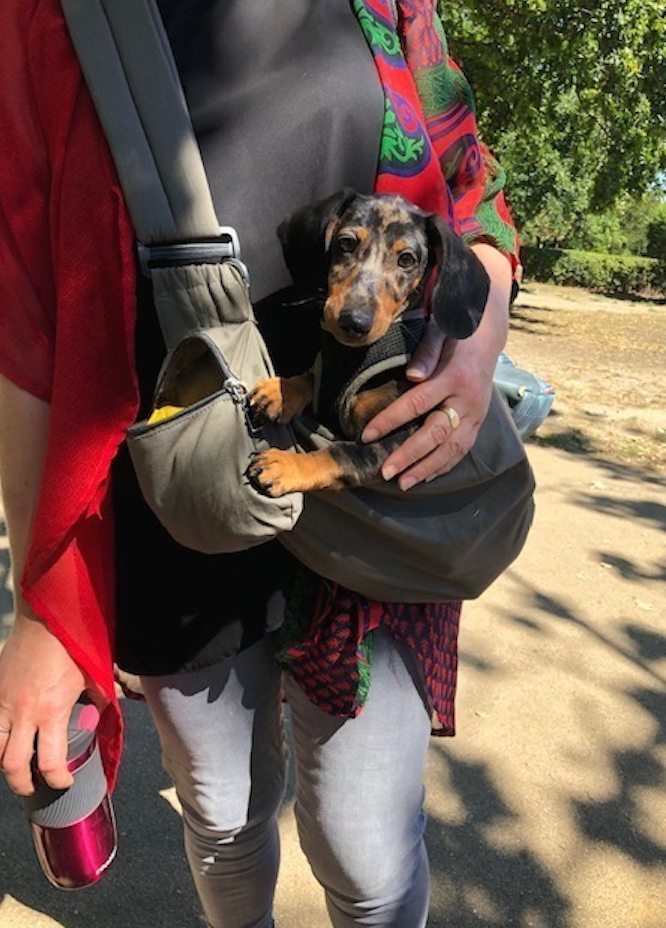 rning how to be the new school dog!
Charlie did some school dog training this week with him, I thought you'd like to see it.
Click here for the videos! School Dog Training 101 and School Dog Training 102
The Staff Risk Assessment Team led by Mrs Okorodudu have been working very hard and going through all the scenarios with our Health and Safety adviser Clare Firmin to pre-empt any problems that might arise with the opening of the school in September. We will be publishing the specific detail and new arrangements here very soon so you can see where to go in the mornings and where to collect your children from, as it is very important parents and children do not jeopardise the bubble approach we will be using to keep everyone as safe as possible. We know our children behave really well, but it is extremely important that all the adults socially distance on site at all times. We have always been a very 'huggy' school, but for now we are asking that all staff and parents model correct socially distanced behaviour in front of the children at all times, and do not hug each other either! I know it seems strange, but this is very important. Please explain to your children that staff will not be hugging or touching them at school, and that this is not because they don't care, it is just part of the new school rules because we don't want anyone to get sick! It is worth explaining to them that even people who have the virus might show no symptoms, so it is important we treat everyone the same.
I'm sure you have all been looking at the rising daily cases in Lewisham and across England with some concern, as we have, but at this stage the plan is still to open fully to all classes in September. A lot of work is going on behind the scenes making sure we have safe new procedures for in the main office, and also looking at how we will restrict groups of children mixing, especially in places like the dining hall. It is absolutely clear that we will not be able to socially distance children, especially in the younger years, and so we are looking carefully at how we can protect the staff and children as much as we possibly can by having 'bubbles' of year groups and phases, having regular hand washing and staff wearing whatever PPE they need to feel safe. As we have already said, the children will spend Thursday 3rd and Friday 4th in their current year groups and classes, and then move up on Monday 7th to their new year group and staff. New Reception 2020 children will be welcomed in smaller groups over the week of 7th September, and we will inform you of the specific date and time for your child closer to the time. For all new Reception 2020 parents who want to see the Zoom video, here is the link Reception Zoom video
We do know that the government's plans are subject to change at very short notice, so please keep yourselves up to date on what the current expectations are, especially in terms of self-isolating after having been abroad or displaying symptoms.
I completely understand that the Government's announcement about all pupils returning in September (along with the threat of fines if parents refuse) has caused a great deal of anxiety for parents. From discussions with many of you, this is mainly because of the knowledge that with bubbles of 30 children and the Government exemption on social distancing in schools (because with bubbles of 30 it is obviously impossible), children will not be socially distancing at school and then they will be coming home where you may have vulnerable or elderly people. Whilst it appears on the whole children do not get severe symptoms themselves, we do know that they can be asymptomatic carriers of the virus. We share your concerns. We will again be looking at our very detailed risk assessment in the light of the new guidelines, and we will be thinking of all the ways we can mitigate the risks to your families. Please remember, there may well be very legitimate reasons why you might need to keep your child home and it is extremely important you keep talking to us honestly and openly, so we can work together on this. Please note, it is not the school, it is the Local Authority that issue fines for non attendance, and if we have agreed legitimate reason with you, this is very unlikely to happen. However we must record attendance according to the law, so communication is absolutely essential.
All classes on Seesaw are now archived for the summer, so there is no need to request a new Home Learning code if yours has expired. If you are looking for activities, we have created a short summer page highlighting some competitions that children can enter. We also have some important Online Safety advice for parents to consider over the holidays which includes some excellent links, videos and guidance from LGFL and ThinkuKnow.
We bid farewell to our lovely Year 6 children, and we congratulate you on being so kind, positive, resilient and hardworking. You need to spend the next 19 minutes sitting down and watching this farewell video the Year 6 staff have made for you. We send you on your way with messages of kindness, luck and love, come back and let us know how your lives have unfolded. You may be leaving John Stainer, but you'll always still be part of the family! https://safeYouTube.net/w/RNSN​
Here is a wonderful competition celebrating the achievements of black people across Britain - you have a lot to choose from! It is open to all ages and doesn't close until September, so you have time to do a really fabulous quality piece! BB COMPETITION
New Uniform for September
We know lots of you will want to buy uniform and we are anticipating the first day back in September will be primarily about organising where everyone needs to go, so we will not be selling uniform that day. Instead, we are going to have a pre-order system from now on. The form is here Uniform_Order_Form and we want you to complete one for each child and then email it back to sharrison27.209@lgflmail.org Please send in the correct money so we are not dealing with change.
There is masses of online content and also ebooks and audio books. This year it will be different, it will be a digital offer. Children can join the challenge on the Reading Agency website. https://summerreadingchallenge.org.uk/
The main symptoms of coronavirus (COVID-19) are:
a high temperature – this means you feel hot to touch on your chest or back (you do not need to measure your temperature)
a new, continuous cough – this means coughing a lot for more than an hour, or 3 or more coughing episodes in 24 hours (if you usually have a cough, it may be worse than usual)
a loss or change to your sense of smell or taste – this means you've noticed you cannot smell or taste anything, or things smell or taste different to normal
To protect others, do not go to places like a GP surgery, pharmacy or hospital if you have any of these symptoms. Stay at home (self-isolate) and get a test.
If you or your children develop symptoms, there are two ways you can get a test, by either travelling to a test centre or having a home test delivered. Click on the link to order or book a test ONLY if you have symptoms
https://www.nhs.uk/ask-for-a-coronavirus-test
Here is a lovely video that Donna sent -
Sesame Street BLM
Thank you everybody for the work you have been doing on
#blacklivesmatter
I want to just explain a bit about why saying 'all lives matter' is not supporting the fight against racism, and could hurt people's feelings and make them think you don't care. If someone came up to you and said to you
'Do you love and care about me?
' and you replied
'I love and care about everyone'
, although that may be true, it dismisses the importance of what that person said to you, and they would not feel that you had heard them or did really love them specifically. If
someone said to you 'Do you care about the terrible things happening to the trees in the Amazon?' and you said 'I care about all trees', again, it would make the person feel like you don't really care about specifically what was important to them. We are talking and learning about the injustices that people from the black community are suffering, and how we can all be a part of making things better. So please, if you hear 'all lives matter', it would be really helpful if you could say, yes they do, but the important thing we are focussing on right now is #blacklivesmatter because that is specifically where the change needs to happen.
Children - I'm sure that some of you may have been angry or upset and could well have questions about what happened in America with George Floyd and what has been happening in both the US and the UK following his death. Please talk to us if it is worrying you in any way.
Please watch this video - it explains really well why racism is still an issue Why Racism Is An Issue For All Of Us
This is a statement from John Stainer school staff about #BlackLivesMatter
John Stainer School has always had a strong focus and commitment to equality and respect for all. In our curriculum, assemblies and expectations, we face and discuss uncomfortable issues and inequalities in the world, because we believe that the only way to make the world a better place is to educate all people out of ignorance and bias and have a zero tolerance of any behaviour that makes anyone else feel unsafe, unequal or unimportant.
We are here for all parents and pupils, regardless of race, sexuality, gender, religion or anything else which makes you, you.
Today, and every other day, all of us at John Stainer School stand as one with our black pupils, staff, parents and the entire BAME community in condemning racism, and commit ourselves to anti-racist actions in our own lives to stand up and address inequality wherever we see it.
#BlackLivesMatter
Miss Najair has kindly allowed me to share a photo/video of her peaceful protest experience on the BLM march. Miss Najair Black Lives Matter March
Parents-
It can sometimes be hard to find good resources to tackle this subject, but a parent has kindly pointed us in the direction of the following resources which we hope you will find more useful than the BBC link which we felt had some messages that fed into the stereotyping. Please click on the links :
Jelani Memory - A kids book about racism
and
Let's talk about Race
by Julius Lester
Even though some changes have been made to the lockdown rules, I hope you will all still remember that hand-washing and social distancing are both extremely important especially if you are seeing anyone from another household. You can't touch them, you MUST keep two metres away. I know this is strange, and it feels weird, but the most important thing we can do is keep ourselves and those we love safe, healthy and well.
For anyone who wants to know about the staffing for next year, click here! NEW CLASSES 20/21
I hope you all enjoyed the video we sent. There was a little glitch in the one we sent out as it started in the middle, so unless you rewound it to the start, you might have missed some of the staff, so here it is again. We made it to remind you not to worry, and that 'every little thing is going to be alright'!
To counter all this negativity, I have a lovely treat for you, an amazing story! Please listen and share it with your friends! Click this link - The Great Realisation
Parents, this is a ten minute video from the Association of Online Safety specialists, it provides a good round up of all the main online safety issues to consider. It advises parents to be more vigilant during this time of increased online activity and offers some good signposts to keep children safe online. Parents Online Safety Film. The Safeguarding Training Centre have also created an Online Safety Hub for Parents to access interactive guidance on setting up parental controls on their child's devices, as well as guidance on apps like TikTok, YouTube and Instagram and more.
Keep safe and well, and look after each other. Have a good week
Sue Harte (and Charlie)