Communication during the Covid-19 school closure
Good morning everyone!
Day 22 - Wednesday 8th April
I know lots of people are so grateful to the NHS and are expressing it in different ways. This beautiful poem and video by Matt Kelly is one of my absolute favourites - click here for a real treat NHS poem and video
I have to tell you, one of our parents, Zana (Felix's mother) has very kindly made 50 reusable masks for our staff who are going in to school every day to keep safe so the critical workers can go and do their jobs. Thank you Zana!
In New Zealand the Prime Minister Jacinda Ardern has said that the Easter bunny is an essential worker, and people in NZ are putting Easter Egg pictures in the windows for children to see. But it's not like Halloween - you can't knock on the doors! If you are looking for eggs (or bears some people have put in their windows for We're going on a Bear Hunt) the game is that you just count them up to see how many you can find. https://www.bbc.co.uk/newsround/52184412 Just make sure you are only walking close to people in your family and maintaining the proper 2 metres distance from everyone else!
Michael Rosen has recently come out of intensive care with suspected coronavirus and is now on the mend. Here is the poem he wrote to celebrate 60 years of the NHS. The poem is published in 'These Are The Hands: Poems from the Heart of the NHS'.
These are the hands
That touch us first
Feel your head
Find the pulse
And make your bed.
These are the hands
That tap your back
Test the skin
Hold your arm
Wheel the bin
Change the bulb
Fix the drip
Pour the jug
Replace your hip.
These are the hands
That fill the bath
Mop the floor
Flick the switch
Soothe the sore
Burn the swabs
Give us a jab
Throw out sharps
Design the lab.
And these are the hands
That stop the leaks
Empty the pan
Wipe the pipes
Carry the can
Clamp the veins
Make the cast
Log the dose
And touch us last.
Get well soon lovely Michael Rosen
Here is the next edition of the newspaper for you to read FIRST NEWS 3 APRIL
The teachers have made an exciting Easter page for you click on this link here Easter
In case you haven't already, please click on and read the following letter, as it contains very important information about the Easter holidays. EASTER20.pdf
Here's a lovely version of one of my favourite songs Lean On Me as the wonderful song writer and singer Bill Withers died this week.
Please note, although we are scaling everything down on the learning side for Easter, we are still open every day in the next two weeks for the children of critical workers (including Good Friday and Easter Monday). We realise this virus is not taking a holiday, and want to make sure we can keep supporting you in the fight against it. We need confirmation from your employer about your critical worker status and what times you need to work, and for you to complete the form at the bottom of this page. We will ask you to take the temperature of your child when they arrive, so we can note it down, and as they leave. Remember, this is emergency childcare only to be used as a last resort when there is nobody else at home or available to look after your children. They are safer at home. With less children, there is also less risk to the staff coming in to do this supervision. Once again, I would like to say a very grateful thanks all the staff who have done this supervision over the last 17 days.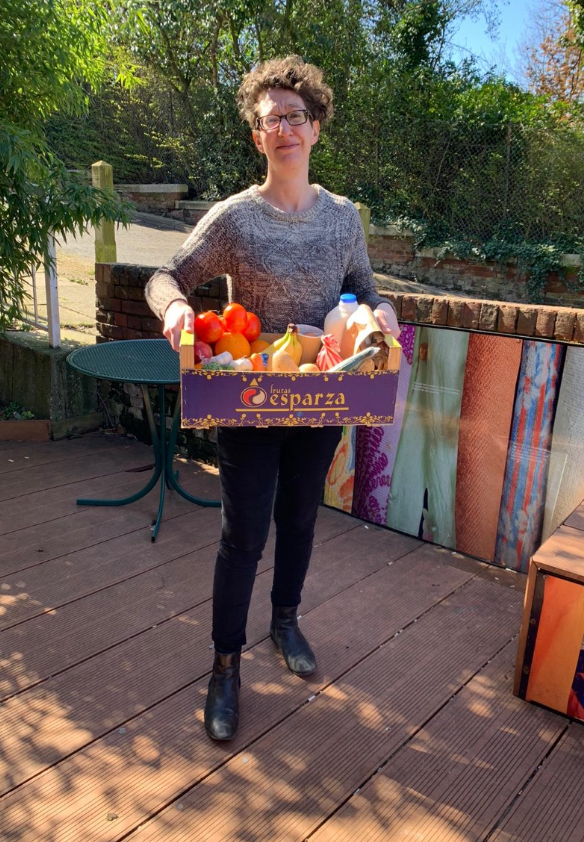 I have a huge thank you to say to the Hill Station Cafe up on Telegraph Hill, they have been giving me boxes of lovely supplies for families, and have offered to do this every week! If you want to donate to a VERY good cause please click on this link - Feed The Hill
This lovely lady packed our boxes up for us - thank you Sharon!
Here is the link to the remote learning resources and packs we have provided and here is a link to a proposed timetable that might be good to help get yourselves into a routine! Learn at home timetable You can adapt it if you need to.
Keep safe and well, and look after each other. Have a good week
Sue Harte (and Charlie)
For critical workers please read the Critical_Care_Place_Rationale. There is an application form as well if you qualify, but if you can, the safest thing for everyone is actually if you keep your child at home. Restricting movement is the best fight against this awful disease for everyone. But we ARE supporting those critical workers who need to get to work and have no alternative care, so even if it is for in a few weeks or ahead of time, please complete the application and email admin@johnstainer.lewisham.sch.uk Critical_Carer_Application Children who are confirmed and coming can wear their own clothes, no uniform necessary - this is not an education alternative, this is emergency childcare!